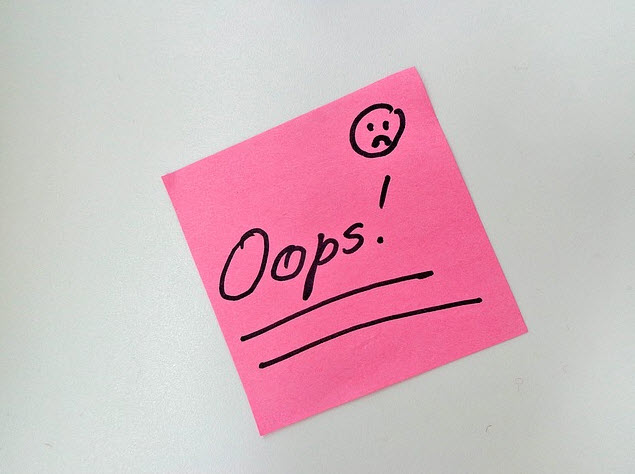 I'm not sure if anyone has ever told you this before, but nobody is perfect. Yes, that includes you. Real estate is a very competitive business which means that when you make a mistake, you better be on top of fixing that mistake.
Here are some of the most common mistakes that both seasoned and new agents make:
Selecting the wrong brokerage
Real estate agents often assume that the best brokerage for them has the best reputation, offers the most competitive split, or has a more desirable location. While these characteristics are important, that's not all you should be considering. Is that brokerage providing you with incoming leads? Do they have a training program? Is that training program going to help you develop the skills that you will need to be a successful real estate agent? What about self promotion? Having a competitive commission program won't really be helpful if you aren't going to be closing any deals. Find the brokerage that is a good fit for you and your goals so that you can be the most successful agent possible.
Poor communication with clients
Did you know that a buyer or sellers number one complaint about their real estate agent is that they are not being communicated with every step of the way? What's sad is, this is probably one of the easiest tasks that you have. Shouldn't you be excelling in communication? It doesn't take much effort to send your client a text or an email with an update of where they are in the buying or selling process. Maybe the solution is as simple as picking one day a week where you reach out and update them. Find a strategy that works for you, and stick to it. Communication is key to happy clients!
Unwilling to learn
Just like technology, the real estate business is changing everyday. If you are not learning at least one new fact every day, you're not doing your job. Learning is key to staying up to date in the industry and maintaining your "industry expert" status so that you can provide your clients with expert service.
Thinking you can do it all on your own
You might think that you can handle your business on your own, but it is vital to remember that you are just one person and you really can't do everything all at once. Not hiring a team or an assistant to help you can be a costly mistake to make as a real estate agent. You can have the best organization skills of anyone you know, and still have tasks or priorities slip through the cracks. Maximize your productivity by splitting up the work so that you can give your full attention and effort to your work. If you feel yourself becoming overwhelmed or not looking forward to taking on a new client, it is time to get some help.
Not being thankful
Your clients have a choice in who they allow to help them in this pivotal part in their life. They chose you because they believe that you are special. Be thankful for their business and remember that there are plenty of agents out there who are struggling to find clients of their own.
Lacking a business plan
Your business plan puts a timeline to your goals as a real estate agent, and how you plan to execute them in order to be successful. It is important to remember that without a business plan, you won't be successful because your business won't have any direction.

There are plenty of situations in life that go wrong everyday, issues which are completely out of our control. What you can control, though, is your decisions and your attitude about life. Mistakes are inevitable, but do your best to avoid some of these and you and your business will be just fine!
---
Zurple can help you generate more leads, track lead behavior, and optimize your follow-up. Interested?