Veteran Agent's Dedication to 5-Star Service Drives Success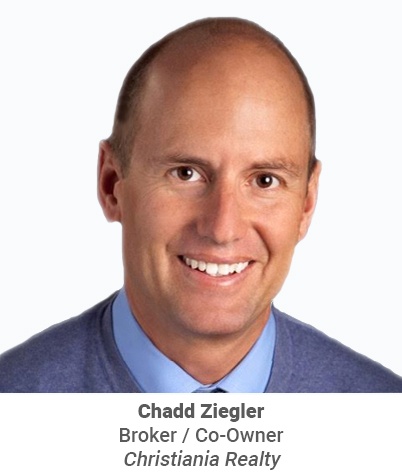 Chadd started out in the hospitality industry, where he mastered the art of five star service. After many years in that space, he decided to apply his expertise to a career in real estate.
Today, he's a successful co-owner and Broker at a real estate agency in Vail, Colorado. In 2011, Chadd decided to invest in Zurple, both to generate new leads and to effectively convert existing leads. That decision transformed his business - and he never looked back.
STATS:
of revenue comes from Zurple
(leads + nurturing)


annual sales
(in 2014)


---
Company Bio:
Located in the mountains of Colorado, Christiania Realty is a full-service, valley-wide boutique real estate agency that is technology oriented but never forgets the personal touch. The owners are dedicated to 5 star service - and they focus on treating each and every client as if they are the only client in the world.
---
Hospitality Industry Expert to Full-Service Broker
At 22, Chadd was working as a general manager at a hotel in Vail, Colorado. He was at a turning point in his life and was trying to decide whether he wanted to continue to grow his hotel management career or if there was a better path that would be an ideal fit for him. After weighing his options, he decided to get his real estate license and began working as a part-time agent. Chadd quickly realized he could make more money doing 10 hours of work as an agent than he was making doing 70+ hours of work as a hotel manager, and he made up his mind. He was going to make real estate his career.
The one thing Chadd had always struggled with, from the very beginning, was keeping up with all the new inquiries that showed up in his inbox day and night. Before he found Zurple, Chadd found it extremely challenging to dedicate his complete attention to every client without sacrificing fast follow-up with new leads. Luckily, his real estate partner, Mark Gordon, was on the hunt for an effective lead generation and nurturing software - and he found Zurple. Chadd and Mark agreed to give it a shot. In no time, both agents were enjoying a consistent new lead flow and were reaping the benefits of automated, fast, relevant follow-up. They were even more excited that the software paid for itself after just one month of use.
---
"Zurple excels at what I'm not great at;
quick, effective follow-up."
---

Other Systems Fell Short on Effective Follow-Up
Like many real estate professionals, Chadd was weary to put all his eggs in one basket, so he tried a number of other popular lead generation and follow-up tools. After testing out several other platforms, Chadd decided he'd made the right call with Zurple.
Zurple goes far beyond the generic messages and drip campaigns offered by other popular providers. The system not only sends a relevant, personalized follow-up message to all new leads within five minutes, it continues to monitor lead activity and send out automated, reply-optimized messages for as long as it takes for the lead to be ready to talk to an agent. Chadd quickly realized he'd hit the jackpot as valuable replies to messages sent by the system consistently showed up in his inbox - and he was thrilled to be able to offer such high-level service without dedicating his whole day to sitting at a computer.
>>> Read Chadd's full case study
---
Ready to start your Zurple success story?