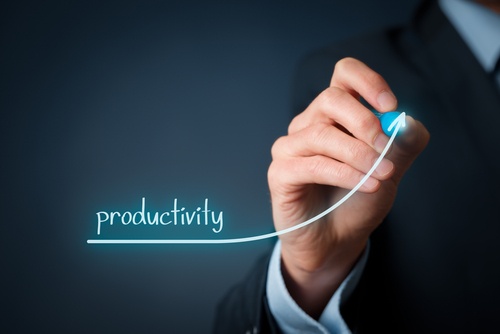 Have you ever felt like there are not enough hours in a day to get everything done? When you are being pulled a million directions all at once and it can sometimes be hard to manage your time in a way that allows you to complete everything that needs to be completed in a day. Productivity for real estate agents can determine your success in the industry, which is why it is important to develop good habits that keep you at the top of your game.
Here are 7 tips to help real estate agents increase productivity:
Plan each day
If you aren't a planner, well, you're in the wrong business. No matter what industry you are in, making plans for the day is a necessity. In order to maximize your productivity as a real estate agent, try planning out your day first thing in the morning. This will allow you to stay on track throughout the rest of the afternoon. One of the many tasks that requires planning is when you take potential clients to see homes that could be of interest to them. A lot of those properties could still be occupied by the owners which requires planning ahead of time so that they are not there when you are showing the home. Additionally you host open houses so that people can come inside and see the property first hand instead of in pictures. Can you imagine trying to host an open house when the owner is still there and the home is a mess? Planning is VERY important.
Prioritize
Which tasks must be completed today, and which ones can be completed at a later date? By no means am I saying that procrastinating is acceptable, but there are obvious chores that have deadlines and will take priority over other tasks. Let's say that one of your client's wants to submit an offer on a home and they need you to send them the offer online so that they can sign it. At the same time, you have a potential client that is asking for you to put together a home search for them. Which task should take priority?

While getting new clients is important, your priority should be putting together the offer for your current client. They are your priority because they are going to someday tell their friends that are looking for a real estate agent how great of an experience they had which you. If you have an assistant or a partner, perhaps they would be able to help put together a home search for the potential client.
Take breaks
Being productive throughout the day is not about who can spend the most time working. It is about being able to find the appropriate balance in your day to work and to be able to take a break as well. Overwhelming yourself with nonstop tasks all day can often mean that you are not putting 100% effort into each task because eventually you are going to get tired and burn out. Giving yourself breaks will help decrease the possibility of mistakes due to fatigue.
Hire help if necessary
It's okay to need help! You are not perfect and you can't be in multiple places at the same time. Asking for help is such an important part of being productive. Hiring help means that you are able to put 100% effort into each task because you aren't spread too thin. If there is a peak season that you are especially busy, consider hiring an intern. If you are always busy then consider hiring an assistant or working with a partner or team so that you can divide tasks accordingly.
Don't procrastinate
Another good rule to follow is that if a task takes less than ten minutes, just complete it right away to get it out of the way. Sometimes it can be easy to tell yourself that a task will be easy to complete, so it can wait. DON'T wait! Waiting can often result in the task being forgotten altogether which can be a huge issue for your business and your reputation. Do you want to be known as the real estate agent that forgets simple tasks? I sure wouldn't.
Allow extra time for each meeting
We have all been to that one meeting that was only supposed to take half an hour, but ended up lasting double that length. Plan your meetings with enough time for something to come up. Maybe you have a client that needs some extra hand holding, or maybe you have a client that has a hard time staying on topic. As a real estate agent, you are also constantly on the go. Leaving extra time between meetings can account for unexpected traffic that you may come across as well. If everything runs smoothly, you'll end up having some time for those oh so very important breaks!
Automate as much as possible
Thanks to modern technology, you no longer have to do everything for your business manually. Automated tools not only help to make your life as an agent easier because you can save time, but you are able to be more productive completing other tasks. Even if you are just automating your social media marketing or your email, that can save you a huge amount of time in the long run.
If you are not able to remain productive during the day, your business is going to suffer. As you know, real estate is greatly a referral business. If you aren't productive while you are working with a client, there is a good chance that they will not refer you to their friends. There is no harm in asking for help if you are finding yourself unable to be productive during the day because you are so overwhelmed with all of your tasks. Apply these tips to your daily routine and see how you can maximize your real estate productivity.
---
Are you looking for more seller leads? We can help!