---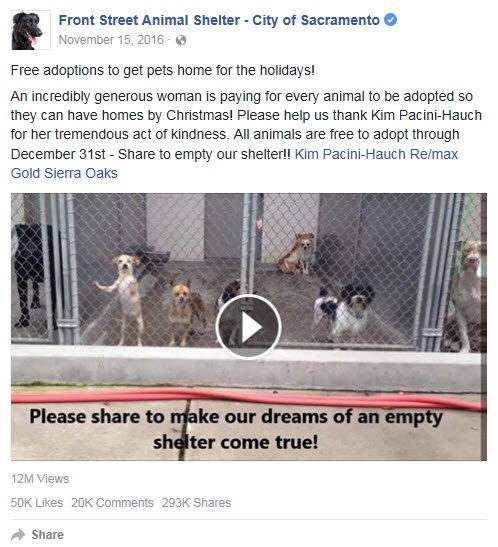 We all want to make the world a better place. It's part of our human nature; if we see something that needs fixing, someone that needs help, or an animal that needs adopting, we feel compelled to step in. But one woman went above and beyond the call and literally put her money where her mouth is.
Kim Pacini-Hauch
, a realtor based out of Sacramento, was so full of love and the holiday spirit that she decided to cover the adoption fees of all animals for the
Front Street Animal Shelter
. Her charitable donations had some unintended consequences...
Kim's generosity was clearly done from the kindness of her heart. At the end it was estimated that she had donated around
$20,000
and had led to the successful adoption of about
800
animals in total.
While this was clearly one of the most generous acts of altruism in this blogger's recent memory, I'd like to highlight some areas that Kim possibly did not plan for. As sweet as her act was, it has also had a positive impact on her business and brand reputation.
Kim's incredible story has already been featured on Fox News, Today, The Washington Post, and more locally, The Sacramento Bee. When was the last time ANY of us got that kind of publicity? I would like to mention that this all came about from a Facebook post that the shelter in question posted. From there, it went viral and then some. To date, the post has 50,000 likes, 20,000 comments, and 239,000 shares.
So we're not all like Kim in that we don't have that much money to donate. What we all do have is the desire to leave this world a better place than how we found it. We can all give back through smaller charitable donations of money and/or time. There are plenty of ways you can give back to your local community and have the added benefit of getting you name out there. Just be sure to capture it on social media and let the world know you're an agent who cares.
---
If you don't have a newsworthy story but still want to capture more of your market, Zurple can help. To find out how you can have a world class digital marketing strategy and close more leads while prospecting less, chat with a Zurple team member today!