Today's consumers are passionate about peer reviews – both reading them and writing them. In fact, consumers often seek out peer reviews before doing any other research on a company or service - a practice that has escalated as popular review sites have become more prominent in search results.
This expanding peer review environment has created a new avenue for customer feedback that presents a unique set of challenges for business owners. In the case of a real estate transaction, rather than reaching directly to their agent with a problem or complaint - clients are immediately turning to review sites like Yelp to share their story. Since some sites are anonymous, it can be hard to identify the poster and can be even harder to follow up with them.
Dealing with negative reviews is not fun for any size company, but it can be especially damaging for small businesses owners.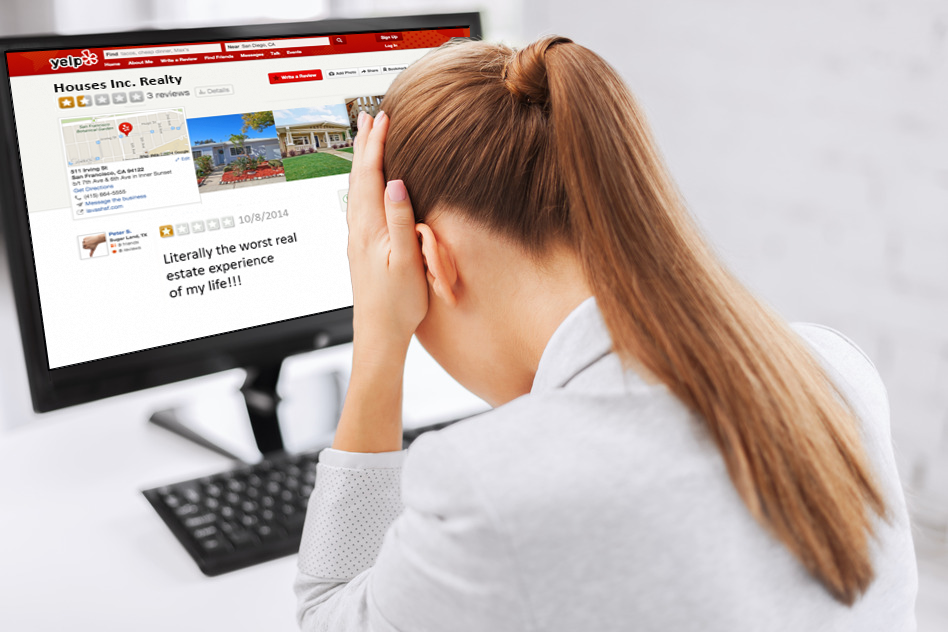 So what do you do if you get a bad real estate review?

Remain calm
The worst thing you can do in this situation is post a knee-jerk response. Naturally, you're going to be a little miffed, but you can't let your true feelings show. Any nasty message you post in response to a complaint will do far more damage to your reputation than the initial review did. Instead of rushing to reply, you need to carefully craft a message that is calm and sincere – and try not to have it sound like an automated reply. Before you come up with your message - you need to find out who you're replying to…




Try to identify the poster
Depending on the review site, there may be a first name or city, state data that can point you in the right direction. If there isn't - use the content of the review to try to place the client or prospect. If you can identify them, use your knowledge of the reviewer to craft a more personalized response. If you can't, do the best you can with what you've got. Do this quickly – ideally you'll want to post a reply within a few hours of the review being received.




Figure out what your recourse is
Most sites (like Yelp) allow business owners to use their account to reply publicly and/or privately to reviews. Generally, I recommend a public reply so others who see your review page also see that you're proactive about responding as quickly as possible.




Leave a thoughtful reply that tells the poster how to reach you
This is the part that requires a little finesse. First and foremost, be sure to acknowledge their concern and offer a sincere apology. If it's something you can fix or help with, offer possible solutions and let them know how to reach you so you can work together to resolve the issue. If it's not something you can fix or help with, let them know you appreciate the feedback because it helps you better serve your clients – and wish them all the best. It's also good practice to follow up with a private reply that lets the poster know the best way to reach you to discuss the matter.




Watch to see if you get any additional replies or comments
You've done the hard part, but you may not be entirely done just yet. Make sure you keep a careful eye on your review page and on your inbox to see if you get any additional replies from the poster. If you offer a solution, then neglect to follow up when you hear back – you can undo all the progress you made by offering the apology to begin with.
That's it! You've done the best you can with a not great situation. To get your reputation back on track, spend a little time asking your past clients to post positive testimonials.
---
---