In today's Agent Insights - Dusty Baker - a Real Estate Agent in Santa Barbara, California, shares his personal and professional goals, and the importance of setting goals for yourself and your business.
Here's Dusty: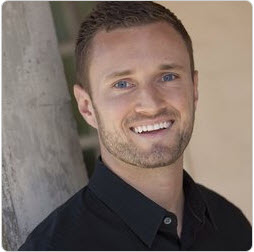 Does anyone else dread going to the gym in January? At the beginning of every year the gym is packed with "New Years Resolutioners" that have zero weight-room etiquette, zero hygiene and zero chance of surviving through February. We all see it, and frankly we've all been those people! We set a goal (in this case getting back in shape) at the beginning of the year and then inevitably give up within a few weeks. Why is that? Are we all that lazy? Perhaps it isn't laziness; perhaps there is a simple solution that can greatly increase our odds…
WRITE IT DOWN AND TELL A FRIEND
Dr. Gail Matthews, a psychology professor at Dominican University in California, completed a study on goal setting using 267 participants. She wanted to know which action plans yielded the best results. What she found is that people who wrote their goals down were 42% more likely to achieve them than the ones who didn't. She also found that telling a friend increases this rate to 78%!
HERE ARE MY GOALS:
I am all about setting big, outrageous goals. Allow this article to be me telling a friend – or a couple thousand friends all over the world – my goals so that my odds of completion rise by 78%.
REAL ESTATE
Jimmy Fallon
Every time I watch the Tonight Show I think that Jimmy must be one of the most fun people on the planet to hang out with. So I want to work with him. If you are reading this, Jimmy, call me to buy a house in Santa Barbara!
Million dollar commission
This works out to be about a $40,000,000 sale. Luckily I live in an area that actually has $40MM+ homes, so I have a shot. This isn't just about making money; how cool would it be to see a 7-figure check written out to my name?
Mobile home
I've never sold one and I want to. I've sold big homes, small homes, condos and vacant land – but no mobile home. Yet…
Incorporate media in real estate in a new way
This goes against S.M.A.R.T. goal setting because it is so vague, but nonetheless it is a goal of mine. I want the media involvement to be different than Million Dollar Listing or being a "real estate expert" on the news; but I still have to figure out what exactly it will be.
PERSONAL
Write a NY Times best-selling book
I barely passed English classes in High school and college (seriously), but as I've begun to write business articles over the years I have found an appreciation for the literary world. And what is the top of the literary world? New York Times Best Seller list.
Learn French
French is the most beautiful language in the world (in my humble opinion) and I want to be fluent.
Live bi-coastal
Within the next 10 years I would like to live and do business both in California and New York.
Laugh every day like Adam Sandler
Adam Sandler isn't the best actor, the smartest guy, or a male model by any sense of the word – but that guy laughs with a joy that is contagious. I want that.
WHAT ARE YOUR GOALS?
What are your business & personal goals? Write them down and tell a friend. Completing goals is hard enough so you might as well stack the odds in your favor – and I'd say that a 78% advantage is worth utilizing! In fact, if you are feeling really courageous write your goals below in the comment section. I'd love to see what they are!
-Dusty
For the original blog post and more from Dusty, visit http://myagentadvice.com/
---
Are you struggling to meet your buyer or seller lead goal? We can help!