In today's
Agent Insights
- Alexis Craig - a Keller Williams agent, discusses how to set yourself apart from the competition using strong SEO strategies.
Here's Alexis: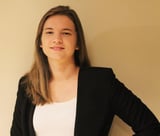 Why are we all the same? Yesterday I was sitting in a coffee shop eavesdropping on an interview for a new barista position. It was a group interview. It wasn't anything out of the ordinary. I heard the standard scripted responses like:

"The thing I want to get out of this job is learning the skill of customer service. I think that's what being a barista is all about."

"I love interacting with and meeting new people, so I thought this job would be perfect for me over a job where customer interaction is limited."

"I've worked at "X" and I learned how to interact with people and put the customer first. Plus, I learned how to work fast like coffee shop demands during rush times."
All these answers sound good on the surface. In fact, they sound great. Until you realize that every single one of them gave the same exact answers. Not one of them gave a different answer.
They were sitting in front of each other and had the opportunity to differentiate themselves since they knew the answers the other interviewees gave. But they didn't. Being the same is a huge problem. You might as well not even exist.
Whether it's getting a barista job, finding a date, or starting a real estate business, when you're the same, you're dead. Being the same in real estate means you have to compete on price, beg for listings, and worry about where your next sale will come from.
If you want to create a real estate business that fits in with your lifestyle, you have to stand out. You have to be different. That means you have to go against every common practice in your industry. You have to create a different web design, copy, offerings, and more.
Look at these two websites that serve the same neighborhoods in a western part of Metro Detroit: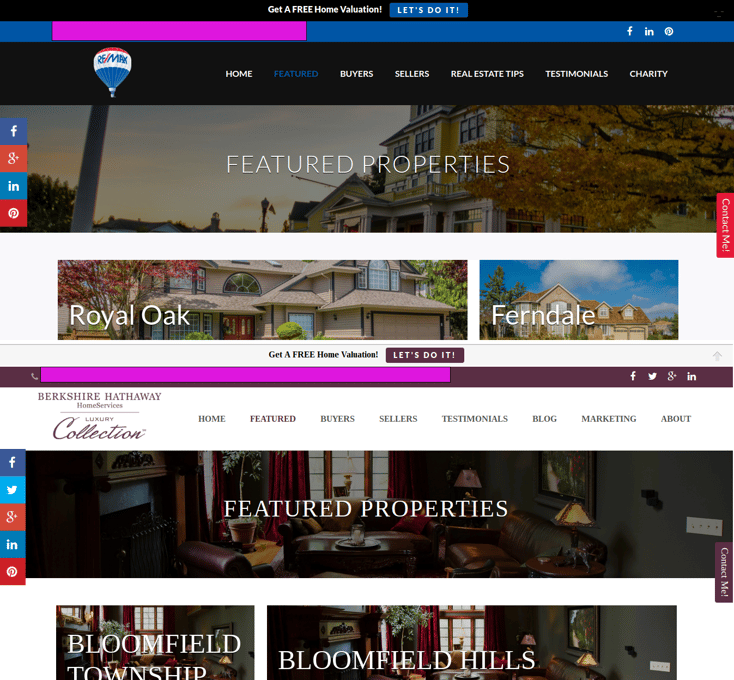 I happen to love the company that designs these sites. They're beautiful and run on efficient code. But these agents just made themselves the same.
The internet is full of agents copying each other. The number one area I see agents copying each other is in their SEO strategy. It's been like people flocking to Walmart on Black Friday to buy the latest TV that's on sale. In this article I'm going to share with you how to build a powerful real estate SEO strategy.
What you'll learn from this article though can be applied to any area of your business. You're going to learn how to produce better results in every area of your business than 99% of other agents.
For the first time, I'm sharing the strategies I've used to separate myself from the competition so that I could experience higher conversion rates, better leads, and better profitability.
Let's get started.

The Reason Most Agents Fail
Do you know why most agents really fail? The "gurus" usually say it's because you're not generating enough leads, managing your time right, or you don't have clear and specific goals.
The truth is that most agents fail because they are the same as every other agent. When a prospect thinks you are the same as the agent down the hall with mustard stains on every shirt he owns, you're doomed.
The real estate industry is way too competitive to try to compete head on. If you continue being the same as every agent, you're going to lose. You have to break away from the pack.
That means being selective about who you work with. It means creating a different message and different offers. In SEO terms, you have to create different content with a unique point of view and get different types of links.
This is hard. The world wants you to be the same and stay the same. Have you ever noticed whenever you try to change something in your life people start to comment?
They want you to be the same, but as soon as you are, they will leave you. They'll stick around about as well as fat on Jake Gyllenhaal's body.
This is where my strategy of failing to tack to cover comes in. I've used this strategy to win in every area of my life.

Don't Tack to Cover

My tacking to cover strategy comes from sailing. When you sail upwind, you have to travel in a zigzag pattern since you can't directly travel upwind. In a race where you're not first and you have to travel upwind, you have to make a choice.
Should you follow the leading boat — tacking to cover — or take an alternative route that could put you in the lead?
When you follow the lead boat, you're assuming that you'll face the same exact sailing conditions. When you tack to cover it becomes a battle of skill. The best skilled crew will come out ahead.
It's a great strategy if you're confident that you can beat your competition on skill. For example, can you create better cold calling scripts to expired listings? Can you present the same offer in better context?

When it comes to SEO, can you write better content on the same topics in the same format and secure the same links? If so, tacking to cover is a great strategy. But for most of us, it's a terrible strategy.
That's because top agents have far better resources and skills. If they didn't, they wouldn't be top agents.
A majority of the time, it's better to create your own path. For me, I knew I wasn't going to win by doing the same lead generation strategies as a majority of agents. I'm a college dropout and I've had a stuttering problem ever since I could speak.
The only way I was going to win in SEO, and real estate, was by marketing, writing content, and building links that no other agent is.
Here's some examples of how I didn't tack to cover:
Everyone: Cold call expired listings on the day of expiration. Here is a script that will work.
Me: Cold call? Don't you know I s-s-stutter? Forget that. I'm not going to annoy people and chase them. I will let them come to me.
Everyone: Send postcards to your farmed area about "just solds" and "just listed".
Me: No way. Postcards scream junk mail. I'm going to send a ten page sales letter that is full of a ton of value with an offer for a guide so that I can build my email list and begin marketing to them through cheaper channels.
The Most Powerful SEO Strategy for Real Estate Agents

A good SEO strategy is composed of two steps:
Create high-quality and unique content.

Get a bunch of links to that content.
I'm going to cover both steps and point out areas where you can be different than the 99% of other agents who are producing content and building links.

Creating Unique and High-Quality Content

You whole SEO strategy fails if you create boring content. Google's goal is to deliver high-quality and unique content that they think will solve a searcher's problem.
Most agents fail to produce unique content. Instead, they go to BuzzSumo, find the most popular real estate articles and then rewrite them so it sounds slightly different. This content isn't original and chances are people won't link to it.
Go to any real estate agent's website. You'll see 90% of their content is the exact same. It has the same viewpoints and bullet points. There is no noticeable difference.
I can't tell you the number of agents who take articles from real estate bloggers like Bill Gasset or Kyle Hiscock. They literally take them and change a bit of the wording so Google counts it as original content.


How to Create Unique Content

You create unique content by taking a stand that is different and by creating a personality that your customers like.
For example, a majority of article about selling a home with kids will tell you to get the kids involved. Not me. It's because that's terrible advice. Whoever decided to write it obviously never tried to sell a home with kids. It's like the pediatrician who said you need to limit your kids "screen time".
My market, which is typically parents and busy professionals, told me getting the kids involved was terrible advice. They said they could barely get them to do chores on a regular basis and it was a losing battle to even try when selling the home.
The cornerstone of a good SEO strategy is unique content. You can produce unique content by:
Talking to your customers and learning their viewpoints.

Find what's popular and make it better.
Talk to Your Customers

This doesn't have to be anything crazy. You're probably already talking to your customers on a regular basis. Just listen to what they're saying.
What do they complain about? What do they say they hope for?
One way we do this at Mocha Homes is by collecting feedback through surveys. One question we like to ask is, "What was the hardest part about selling your home?"
Most agents prefer to skip this. They look for content they think will push them into #1 spot in the search engines. Instead of asking, what topic will help me get ranked? Ask, what do I have to give my clients to make this piece of content valuable to them?
If you can create content that is highly valuable, it's going to naturally attract links. To create valuable content, you need to understand your customers and give them the information they need.
When was the last time you saw an article on a real estate agent's blog about how to negotiate a lower commission rate? That's because that article goes against the best interest of an agent — make as much money per transaction as possible.
But when you write content like this, it sets yourself apart. You begin standing out from your competitors and your clients notice you. All of sudden people are trying to copy your content.
Really this is the only way to build a long-term business. Start creating content that takes a different perspective.

Create Better Content
This one is similar to a strategy that I learned from Brian Dean at Backlinko. He calls it his skyscraper technique.
The idea is to find popular content and make it better. You can make it better by:
Make it longer.

More up-to-date.

Better designed.

More thorough.
Ryan Fitzgerald at Raleigh Realty used this strategy to grow his blog. Instead of writing articles, he took a lot of the same content and made it better by producing infographics. He has made some of the best and most infographics in the real estate industry.
Once you have content that is unique and high-quality, you can begin building links to your content to help your SEO.

The Art of Building Links



Over the course of talking with a ton of agents, I learned that most of them believe that the best way to build a strong SEO strategy is by promoting your content on social media.
But, social media plays a small part in your search rankings. Link building is the second most important factor in local search results, only behind on-page signals.
Building backlinks boils down to two factors; relevancy and authority.

A highly relevant website is in the same vertical as you. For example, another real estate blog is highly relevant.

A high authority site is a site that has a strong backlink profile. These are sites like Realtor or Zillow.
Your goal is to post on sites that are both highly relevant and have high authority. These would be sites like Realtor or Forbes. However, securing these links can be hard. Every other agent is trying to get a link from these sites.
Top real estate bloggers are constantly pitched about guest posts. Reaching out to them should be part of your strategy, but not all of it. In fact, this is kind of the lazy way to building links.
That's why I like to try to get links from sites that are lower on the relevant scale, but are still high in authority. Every agent goes after links on other real estate websites, but everyone stays away from gardening websites.
A good SEO strategy is all about looking for links from highly authoritative sites that could find your content useful. For example, I recently wrote an article on an authoritative dog site about how to buy a home when you own a dog. It included the things to look for in a home like a big yard.
Once you find potential sites to secure links from, begin pitching them about doing a guest post or a link exchange. Here is the email template that I use:

SUBJECT LINE: I'd Love to Write for Your Site!
Hey [Insert name],
I'm sure you get a ton of spammy submissions so I'll get straight to the point - I'd love to submit a post for publishing on your site.
If you're still accepting posts, please let me know and I can put together a draft for your approval.
Links to recent guest posts:
[Insert link to sample post]

[Insert link to sample post]

[Insert link to sample post]
Thanks for your time!

Conclusion
To be successful in real estate, you need to take a different approach than every other agent. This doesn't apply just to SEO, but every area of your business. This should be a mindset that you use to influence your marketing, how you deliver your services, and who you target.
The industry is way to competitive to compete head-to-head. If you fall into the trap of being the same, you become a commodity and you're forced to compete on price. Being the lowest price business is a sure way to fail.
People never thought the giant K-mart would die, but along came Wal-mart. And now Wal-mart is being threatened by Amazon.
To build the business you want, you have to stand out. One way to do that is through your SEO strategy. Create better content and build different links.
If you're looking for somewhere to guest post and build links, then send me an email at: alexiscraig@kw.com and we can set something up.

---
Are you struggling to meet your buyer or seller lead goal? We can help!