Technology should make our lives easier, however that's not always the case. Different members of your team benefit from different types of technology. While your administrative assistant may benefit from general office tools, like Google docs and SalesForce, your buyers and listing agents may benefit from more specified technologies. Help your team members (or yourself) out by figuring out which technologies assist your job duties the most. Use this list of apps for mobile devices to help each member of your real estate team.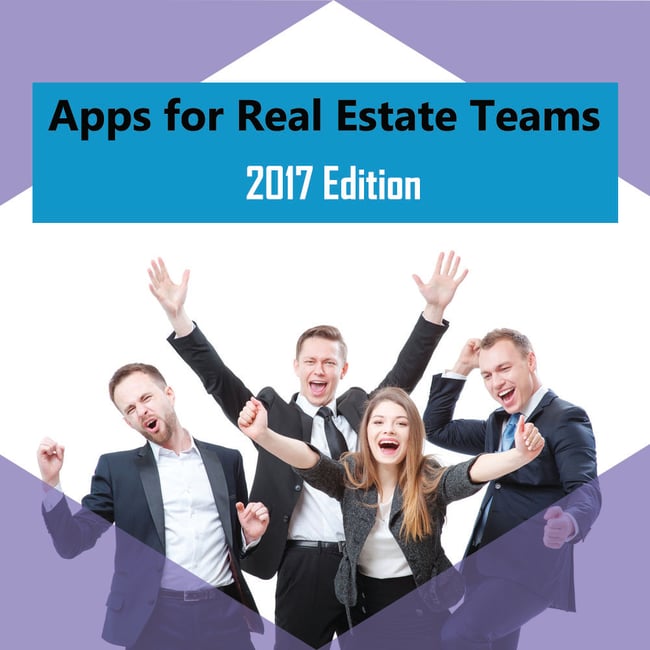 10 Apps for Every Member of your Real Estate Team
Listing Agents
10MinRealty
10MinRealty is an demand home showing app. Users can request a home showing from their mobile device and be synced up with an agent in minutes. For more information on how agents can use 10MinRealty to manage their showings and increase their business, request more information here.
Cloud CMA
Create comparative market analysis reports on the fly with Cloud CMA. You'll spend less time researching on your local mls, meaning you'll have more time to prospect new clients. The program includes an unlimited amount of CMA reports, buyer reports, property reports, and flyers. Agents can customize each marketing piece to their personal branding. More information on Cloud CMA can be found here.

Could you or your listing agent use some help generating seller leads? Zurple uses optimized social media marketing to generate highly qualified leads in your target markets. We rely on geotarget marketing and focus on the target submarkets you prefer. We can limit paid traffic on Google and other sites for you specific neighborhood.


Buyers Agent
CamScanner
CamScanner allows users to scan documents from mobile devices, including smartphones and tablets. Buyers agents can now upload documents instantaneously while at the listing property. This will eliminate extra trips taken to visit your office copier. Although it may take a little longer to get an error free copy due to user error. More information on the CamScanner app can be found here.
Mortgage Calculator (for iphones)
If you are working with non-pre approved clients or those that are looking to up their spending, consider having mortgage calculator app. Figure out your client's estimated monthly payment with this free mortgage calculator. The Morgage Calculator is free and available in the itunes store here. More information on the Mortgage Calculator app can be found here.

US Mortgage Calculator (for Androids)
If you are not an iphone user, don't worry there are still options for you. The US Mortgage Calculator is a free PITI mortgage calculator, meaning it takes into account the monthly principal, interest, taxes, and insurance.The US Mortgage Calculator is available on Google Play here.
Sign Easy
Sign Easy allows users to sign while on the go. As a buyer's agent you are constantly on the go showing clients different properties. With Sign Easy you can have clients sign contracts from your tablet or mobile phone. Clients won't have to take a separate trip to your physical office, leaving them more satisfied with your service. You can download the Sign Easy app here.
Marketing Assistant
HootSuite
Hootsuite is a platform for social media management. The app is integrated with Facebook, Instagram, and Twitter. Brokerages with multiple agents and thus multiple Business Facebook pages would benefit from the technology. Hootsuite lets teams map out their social media workflows according to their organizational structure. Also, if your team would like to know which topics are trending in your local market, Hootsuite provides suggested content based on your desired geographic location. Best of all Hootsuite allows users to manage all of their social media platforms from a single app, making life easier for your administrative or marketing assistant. Click here for more information on HootSuite's mobile apps.
Administrative Assistant
Followupthen
Although not an actual mobile app, Followupthen is a free email reminder service. If setting reminders in your Gmail or Outlook isn't cutting it, consider this alternative. Users simply customize their reminder time as the name to the address. For example, daily reminders take the format, everyday630am@followupthen.com or weekdays9am@followup.com. Specific remindes would take on formats such as, 22april@followupthen.com or mar30@followupthen. For more ways to use Followupthen, check out their website here.
Zoho Notebook
Zoho Notebook takes mobile note taking to the next level. Users can insert folders, folder labels, and pictures to keep their on the go notes organized. One perk is that the app is free. However, a downside is that the app only works on iphones, ipads, and apple products. Download Zoho Notebook from the Google Play here.
PDF Escape
PDF Ecape is great for brokers as they often provide the greatest amount of signatures for your office. The app includes a PDF reader, editor, form filler, form designer, and annotator. Click here for more information on PDF Escape.


---
Want More Great Apps?
Check out Zurple's comprehensive productivity app guide. The guide includes 22 hand-selected productivity apps that are ideal for real estate agents.