In today's Agent Insights guest post, Kerry Klun - a 20 year veteran Broker / Owner in Satellite Beach, Florida - talks about how real estate agents can avoid bad habits that generate bad attitudes. Read on and be happy!
Here's Kerry: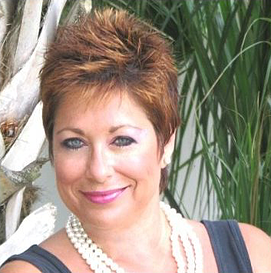 In our industry, we see people all day long. We all love working with the upbeat, happy individuals that are a joy to be around - but the miserable people we work with is another story all together.

I was recently in a continuing education class and one of the other individuals in the class was not terribly pleasant to be around. In fact, she complained about everything and everyone around her the entire time she was there! I left the class wondering how that person actually makes a living selling homes. Her negative attitude HAS to affect her business production. Then I was struck by inspiration to write a blog about it.
If you like to be happy - steer clear of these 17 bad habits.
Chronic Complaining
Yes, it is therapeutic to vent once in a while, but be careful - sympathetic ears will tire of chronic complaining very quickly - especially in a people minded business such as ours.


Retail Therapy
Personally I detest shopping. Yes, I do purchase essentials, but, you won't fine me browsing in a store unless my mother drags me along behind her. Excessive buying can cause another problem... lack of funds, which can lead back to... chronic complaining! Gee this is all starting to come together isn't it? All I am saying is spend only what you can afford to, and don't use shopping as a stress outlet.


Binge Drinking
We have all been at company functions where there was that one individual who didn't know how to say no to free booze. I actually know an agent who made a poor client communication choice while at a free booze event. Needless to say, she lost the client... and her job when the client called her broker the next day. Not worth it!


Worrying About the Future


Yesterday is over, tomorrow is not promised and all we have is today. Could you lose a deal? Yes. Will worrying about it help you right now? No.




Lack of Hobbies
Having hobbies outside of real estate helps us live richer, more fulfilling lives. For example, I love to dance the Argentine Tango, am passionate about rescuing animals and I love to cook (which is why I need to Tango). In short, get a hobby.


Eating Poorly
No one loves a good warm funnel cake with powdered sugar more than me BUT a diet that consists solely of junk food will only bring you down. When I cook, I prepare healthy meals for myself. Failing to do so leads to a lack of energy, poor health and low productivity.


Gossip
Gossiping is a quick way to lose friends. Keep it professional and stay out of other people's business.


Holding Grudges
Let it go and move on - you'll be better for it.


Stop Learning


When you stop learning, you start to stagnate. In our industry, that means agents who keep learning and choose not to stagnate will run you over. Keep up!




Not Following Through
How many deals have we lost because we didn't make a call or follow through on a commitment to a client? Not following through is literally costing you money - work on it.


Hating Your Job
Very few people can hide hating their job and if you hate your job, it WILL SHOW! Real estate isn't for everyone and if it isn't for you, consider other options. Those of us who love the profession will thank you for it.


Negative Thinking


It is of the utmost importance that you learn not to dwell on negative thoughts if you have any chance of being happy. Train yourself to turn the negative train of thought into something positive.




Jumping to Conclusions
Not getting the facts and jumping to conclusions can be very damaging. Make sure you know what's really happening before making any assumptions.


Blowing Things Out of Proportion


Another big no-no in our industry! I personally don't have enough time in my day to imagine non-existant problems let alone blow them out of proportion.

Keep your life in focus.


Not Having a Goal


If youy don't have goals, how do you know where you're going? Know your goals and you're gold!



Pro Tip: Need more help with setting your goals and getting organized? Download our free real estate weekly planner

.




Worrying About What Other Think


This is like gossipin

g in reverse. You can't do anything about what other people think of you, so, don't spend time worrying about something you can't control.



Wanting More Money




One of the

greatest things about our industry is, if we want more money, all we need to do is work harder and smarter. Remember that, and if you want it, do it - and you will succeed!

Realistically, a lot of the above items are really just common sense - but sometimes it helps to read through them to keep yourself on track.
To learn more about Kerry - visit her website: www.PalmRealty.com.
---
Want more Agent Insights?