Being a Real Estate agent is its own niche. Sometimes you tell your significant other or family member the issues you're dealing with at work and they just don't seem to get it. We've created a list of problems only realtors relate to, as well as some suggestions to overcome these difficulties.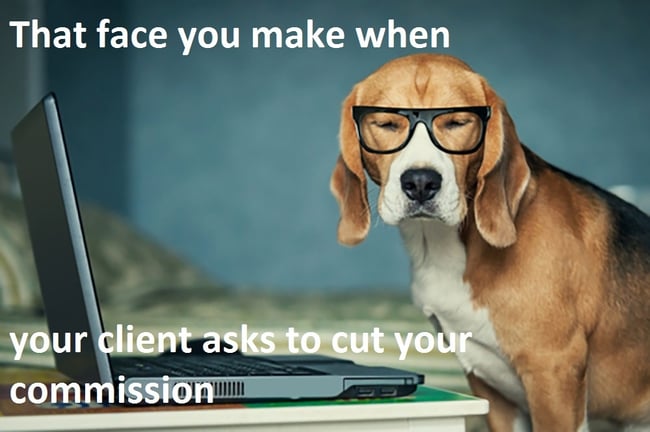 20 Problems Only Realtors Can Relate To (& How to Deal)
Before showings you turn into a part-time maid

It's difficult dealing with those clients who procrastinate before showings.

Pro Tip: Let your client know you only have a limited amount of the time that day and be upfront if their home needs cleaning.



Your client's wifi always seems to stop working when you need it

Who doesn't have functioning internet service in 2017? Home sellers.

Pro Tip: Purchase your own hotspot, or invest in a wireless wifi device, such as an ipad.



You can't really "disconnect" during vacations, without missing out on business

As an agent your always willing to answer a call, text, or email, if it's coming from a lead or client, even if it cuts into your personal time.

Pro Tip: Actually disconnect. Yes, you're going to miss a few phone calls, texts, and emails, but it's not the end of the world. Forbes tells us that spending more time away from our desks causes workers to work at a faster time and have a higher quality focus.



Your business card might as well include: part-time handy man, pet sitter, baby sitter, and client sitter

Have you ever prepared for a private showing, while your client was at work? Suddenly, their child or pet needs a temporary home, also known as the back of your car or office.

Pro Tip: Realize this is reality, and all a part of the job, or budget to higher an assistant.



Your buyer clients, frequently suggest unreasonable counter offers

Some clients don't understand that agents usually know of the best listing price. Yes, we do work on commissions, but we want to find you a home as soon as possible.

Pro Tip: Provide data from market reports, showing your suggested price is reasonable for the area. Otherwise if your client is being completely unreasonable, perhaps consider firing them.



Leads Want Immediate Replies

In this technology age, many leads have become accustomed to instant gratification.

Pro Tip: Zurple follows up with leads almost instantly, sending personalized emails and text messages. To see how Zurple takes the leg work out of conversion:



Your office could literally never go paperless

Real Estate is a paperwork intensive business. This means your office, car, and home in general will become extremely messy.

Pro Tip: Check out this free guide on how to get your home organized.



Your seller clients think their expert marketers

If your seller has any marketing experience, they might be quick to suggest the latest digital marketing trend or provide their insights.

Pro Tip: Reassure your leads that you're an experienced agent with a proven track record. Also, do hear out your client's advice, it'll show you value their insights.



You turn into an insomniac waiting for offers

in this sellers market it can be nerve-racking waiting to see if your offer has been accepted.

Pro Tip: Consider the benefits of meditating or consider a hobby that disconnects you from your work.



You don't have weekends off

Unfortunately most agents' weekends are filled with open houses and listing presentations.

Pro Tip: Embrace the time that you do have off, you'll feel more energized when you return to work.



You can't just stroll to the grocery store in your pj's

When you're a Real Estate agent your local reputation matters. You never know who you'll run into.

Pro Tip: Stay calm, don't develop any habits like road rage or becoming irritable with store clerks. Be mindful of your surroundings at all times.



Your clients ask questions you're not allowed to answer

Fair housing regulations prevent agents from disclosing information on a neighborhood's religious makeup, school test scores, race, income, and other information.

Pro Tip: Be upfront with clients, explain to them that you can't disclose certain facts without jeopardizing your career.



You never know where the day went

Time management will take you far in Real Estate. As an agent, your service oriented role means one client can reroute your entire day.

Pro Tip: Download our free app productivity guide



You're a one-man (or one-woman) show

As an agent, you need to know a little bit of everything, internet marketing, sales, legal work. You're basically several businesses in one body.

Pro Tip: Accept early on that a career in Real Estate means you'll be learning the rest of your life.



Leads think pre-approval is enough

You've likely encountered those leads who did not seek mortgage pre-approval or even a mortgage pre-qualification. They assure you they can "handle it." You dedicate hours to helping them find their dream home, only to be disappointed later.

Pro Tip: Require leads to have a mortgage pre-qualification before working with you. Explain the importance of them doing this: so that you can show homes in the appropriate price range, or ensure you have relationships at the well-known banks or lender offices.



Sellers aren't always aware of closing costs

The phrase selling your home, sure does sound like you'd be making a lot of money.

Pro Tip: Most first time home sellers don't fully understand the entire home selling process. Inquire how much your lead know during your first few meetings to better gage how much guidance they'll need.



Sellers aren't prepared for low appraisals

There's nothing worse than a client who thinks they own a million dollar home, that's actually below market value.

Pro Tip: Explain in advance to your client why appraisals could come back low, this list from Realtor, provides the most common reasons appraisals come back low.



You're a full-time agent, part-time burglar

How many times have you hopped a fence to check for an unlocked backdoor?

Pro Tip: Always text the listing agent for the key box code before heading to the home.



Those clients who insist on low balling in an offer

Nothing is more embarrassing than a cheap client who, despite your advice, follows their own intuition.

Pro Tip: Explain to your client the reasons behind your pricing strategy. Provide data from a competitive market analysis and explain the importance of working towards a common goal of price with the buyer. And that their well below market value offer can actually be insulting.



Everyone thinks your job is a walk in the park

There are many obvious perks to being a Real Estate agent, you decide your hours, you can work from home, and you're pretty much your own boss.

Pro Tip: Don't let others opinions get to you, especially if there coming from outside the Real Estate industry. Professionals from other industries, such as the legal or health care fields experience similar stereotypes.


---
See how Zurple can solve your lead generation problems: