Lights - Camera - Action! Today's article is a simple one. We give you 25 ideas to give your on-camera personality some inspiration. We have also included a free download of our Guide to Online Video for Real Estate Agents. We discuss video editing, video platforms, camera options, and everything you need to get started.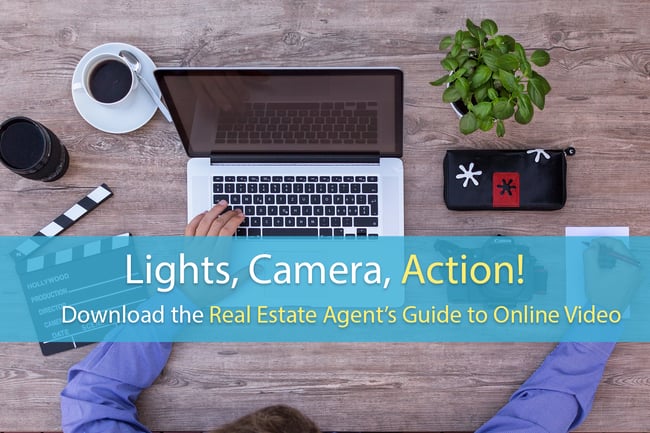 Here are 25 Video Marketing Ideas for Real Estate Agents:
About You
Introduce yourself to your leads

Explain any specialties or niche markets you focus on

Reveal 3 traits that help you stand out from other agents

Read some of your client testimonials

Explain any unique marketing or real estate services you provide
About The Community
Provide a visual tour of local hotspots iny our neighborhood

Discuss highlights of the community

Highlight independently owned small businesses in the area

Explain why your town is worth living in compared to others nearby

Discuss benefits of each neighborhood in your area in detail

Have an interview with long-time residents
Illustrate popular architectural styles in your area
Discuss median cost & advise buyers on where to look for properties that fit their budget
Explain market trends & provide timing advice
Create seasonal videos to highlight the best events & places to visit throughout the year
Videos About Real Estate
Provide tips and best practices for first-time home buyers or sellers

Announce an upcoming open house and highlight features of the property

Offer advice to leads considering selling on what home improvements provide the best ROI

Do a video walk-through of a newly-listed property

Ask past clients to submit questions and explain the answers in your videos

Discuss mortgage prequalification and home loan opportunities
Offer advice on how to identify serious issues vs. cosmetic damage on home tours
Talk about the foreclosure market in your area
Discuss the timeline of a traditional sale
Provide advice on how to prioritize needs to land on the perfect neighborhood (school district vs. commute time, etc.)
---
Need Advice on Online Video Marketing?
Download Our Guide for Real Estate Agents!