It used to be a big pain in the you-know-what to record your miles each time you got in the car to drive real estate clients to viewings or to head to an open house - especially if you forgot a pen. Thankfully, GPS and technology have made the process much easier.
There are lots of great apps you can use to track work miles, and these are a few of our favorites.
5 Mileage Tracker Apps for Real Estate Pros:
Don't lose another penny to mileage! Make sure you get the biggest refund possible when tax season comes around. This IRS compliant app automatically logs all of your drives and makes it easy to categorize for maximum tax benefits. MileIQ is free for your first 40 drives every month or upgrade for more drives per month.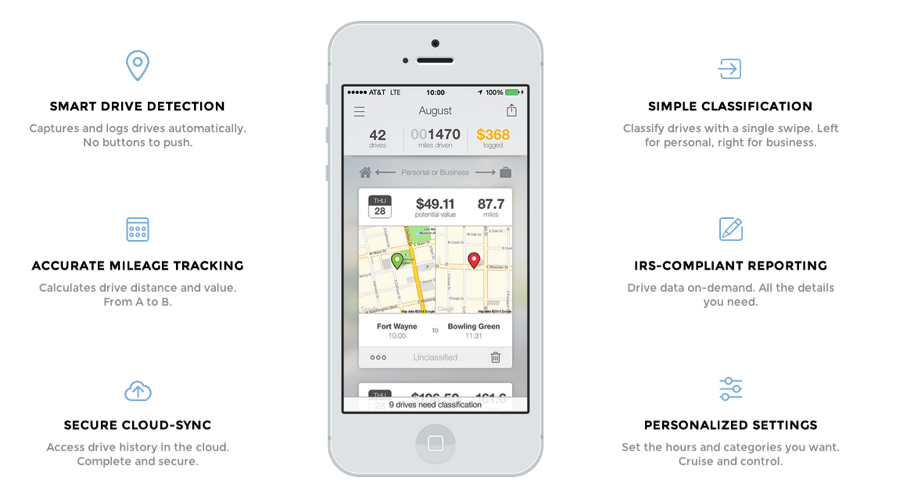 From the Website:
MileIQ uses smart drive-detection technology to automatically log your drives and calculate their value. You get the reimbursement or deduction you deserve with a minimum amount of effort.

Notable Features include:
Cloud Storage:
Data is automatically stored into a cloud service.


Easy Export:
Export your data to Concur, FreshBooks, CSV or PDF from your smart phone.


MileIQ Vehicles:
Add and manage different vehicles you drive and define them by make, model, year, etc. Also add notes about your vehicle (e.g. service dates).
To learn more about MileIQ or to download the app, visit: www.mileiq.com.


---
TripLog is one of the most downloaded GPS mileage tracking apps on the market today. This tool not only tracks mileage, it also calculates fuel economy and offers support for multiple vehicles. TripLog is free - but users can upgrade to a Personal, Business, or Enterprise account for more features at a reasonable price.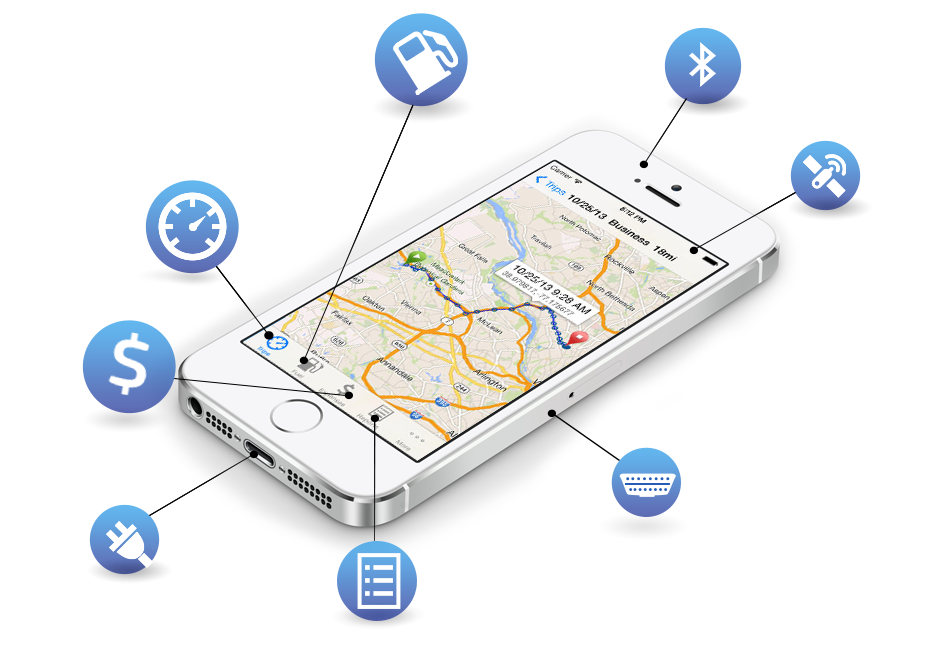 From the Website:
With most innovative and advanced features available on the market today, TripLog makes mileage tracking a breeze. It automates mileage tracking and monitors trips with Android widgets. The app also includes vehicle and business expense tracking, fuel economy calculation and comprehensive IRS compliant reports.
Notable Features Include:
Automatic Tracking:
TripLog automatically starts the GPS to track mileage without the need of entering it into the app.


Team Management Tools:
Manage your team by viewing actual driving routes and vehicle locations on the maps.


Paperless Support:
Take photographs of your receipts to store them in the cloud storage.


To learn more about TripLog or to download the app, visit: www.triplogmileage.com.


---
Taxes are a pain, especially when you're trying to accurately account for all of your deductions as a contract employee. Mileage Log makes it super easy to track your work travel. Simply add your trip to the app when you hit the road – then, when tax time rolls around, export your trip log and hand it to your accountant!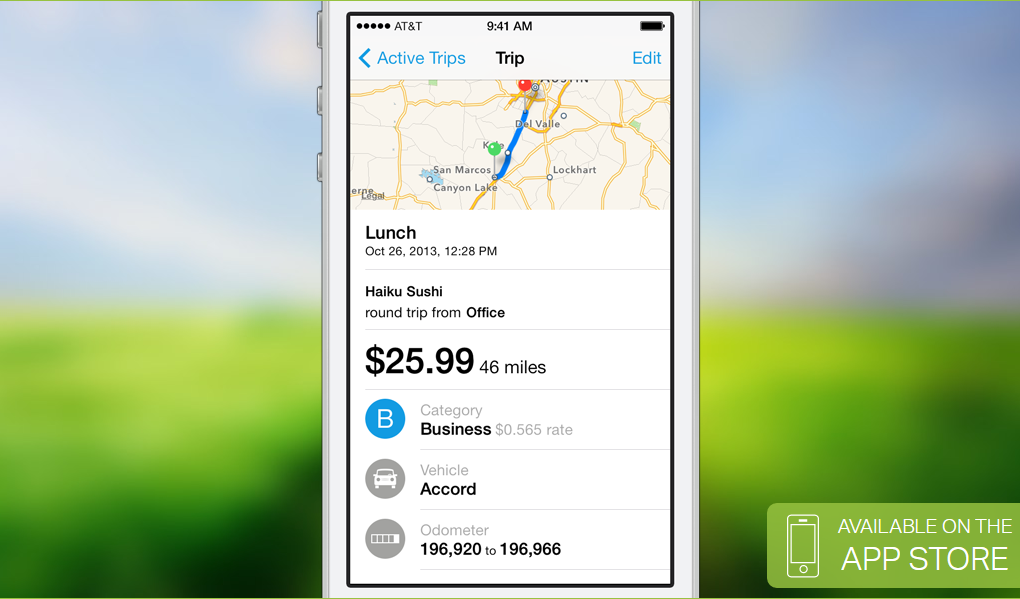 From the Website:
With predictive input, auto-entry, auto-calculation, and quick access to frequent trips, Mileage Log+ does the hard work for you. A few quick taps will create useful data ready to search, sort, and generate email reports.
Notable Features include:
Frequent Trips:
Ideal for agents who regularly take the same trips each day, while still giving you the ability to go back and filter your trips.


Customizable Categories:
Mileage Log+ allows you to create custom categories for your specific needs.


Robust Export Compatibility:
Easily export and email your reports as PDF and CSV attachments.

To learn more about Mileage Log+ or to download the app, visit: www.mileage-log.com.
---
TaxMileage is ideal for agents who want to reduce corporate reimbursement rejections and IRS audits - and for those who want to increase reimbursement return. TaxMileage is free, but if you want to access expense reports and additional features, you must select a plan starting from $9.99/year.



From the Website:
TaxMileage is an easy-to-use app that helps you record and generate mileage reimbursement reports. This highly automated solution allows you to relax while your smartphone's GPS does all the work for you.
Notable Features Include:
Automatic Reimbursement Reports:
Once you reach your final destination, TaxMileage sends you a mileage reimbursement report that you can access from any device, anywhere at any time.


Safe Storage:
Lost your phone? No worries, TaxMileage logs all your trip information in their server which allows you to access it from any device.


Automatic Updates:
This app provides users with up to date IRS refund rates automatically for each category: business, charity, moving and medical.
To learn more about Tax Mileage or to download the app, visit: www.taxmileage.com.
---
MileBug helps you track trips and related expenses to help ensure you get the tax deduction you deserve! The app costs $2.99, but the one-time fee provides you with unlimited access to its features.


From the Website:
For all lovers of larger tax returns, MileBug is a beautiful app that makes it easy to track your tax-deductible mileage on your smartphone!
Notable Features Include:
Flexible GPS Tracking:
At any time, you can open a trip to see your path on the map. Easily edit your path by dragging, removing, or adding pins.


Multi-Format Export Support:
Generate and email mileage tracker reports easily in both HTML and CSV formats that import into Excel and Numbers.


Instant Access:
Sync your phone to MileBug's cloud service for instant access on any device.
To learn more about MileBug or to download the app, visit: www.milebug.com.
Start using one of these apps today to maximize your mileage deduction when tax time rolls around! (Also, check out our Tax Deduction Checklist for more money-saving tips!)
Already using a mileage tracker? Which one do you use and what do you like or dislike about it?
---
Want more great apps?