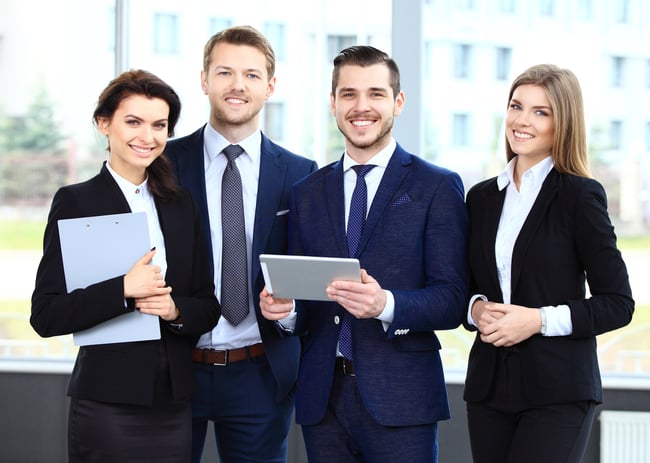 In this article, we'll share recruiting and hiring strategies to help you assemble a team so you can scale your real estate business
Technology can give you the upper hand against your competition, but you might need to hire people to manage the technology, excess clients, and/or other aspects of your real estate business as needed. A strong business is built around people with varying strengths and can contribute in ways that you might not be able to or want to.
What are your strengths and weaknesses? Which tasks can you delegate? These questions will help you focus on your strengths so you can do what you're best at and less on your weakness.
For example, if you were the shooting guard of a basketball team, would you choose another point guard or a power forward? Since you're a shooting guard, the smart choice a power forward because they could rebound while you shoot – they complement each other. Think of Michael Jordan and Scottie Pippen, Kobe Bryant and Shaquille O'Neal, Larry Bird and Kevin McHale, Magic Johnson and Kareem Abdul-Jabbar. Each leader had a supporter that complemented their skills, strengths, and role.
Now, imagine a world where you can focus on real estate tasks like your clients and less on time-consuming administrative/operational tasks like accounting, lead management, digital marketing ads, and social media? This world can be a reality if you hire the right staff.
Recruiting and Hiring
Create realistic goals around who and when you'll bring on team members
Prioritize recruiting around positions that will have the greatest short-term impact when starting your business.
Have a repeatable system for interviews and onboarding – building a team is no different than other key systems in your business, like lead generation or conversion.
Onboarding and training are as important as making good hires
Reverse Engineer Your Success
Your business will be built on your experiences and the systems you have in place to be successful.
How do you take those plans and make them work for multiple-people?
Set goals/expectations from the outset, and plan on being involved in finding ways for your team members to achieve them.
Remember – a goal that can't be measured and documented is just a wish.
Your staff can be a competitive advantage if you have a quality hiring process. Not only can they make your business better, but they can give you the free time to work on tasks that you want to, instead of having to. If you can hire reliable employees that you can trust, you can decrease your weekly hours and spend more time with your family.
---
Ready to take your business to the next level? Request a free demo of Zurple's lead generation and conversion software today!