Before investing marketing dollars in Realtor.com, Trulia, or Zillow, be sure to learn which platform will best fit your business model. Learn the differences between each model and how to make the most of your lisitngs.



How ZTR Leads Are Generated
All ZTR (Zillow, Trulia & Realtor.com) sites are based on the agent's zip code. The higher number of home searchers for a particular zip code, the higher the zip code price will be.

Different agents fair differently depending on the site, some can generate sales from Trulia, while not convert a single Realtor.com. It's best to make an educated decision before investing marketing dollars into any of these home search sites.
Realtor.com® operates differently in that when leads form fill, site operators will decide which agent is synced up with that lead, depending on who has purchased ad space (source).
Realtor.com® has Better Coverage
News Corp, Realtor.com's parent company, has a direct relationship with the National Association of Realtors®. Meaning Realtor.com® has 97% of all MLS listed properties (source).
More Features for Sellers
Realtor.com® allows users to use the search bar for recently sold properties, allowing users to understand how firm the asking price maybe for a particular area. However, Zillow's Zestimate is a competing feature.
Almost The Same Amount of Realtors
Zillow group has approximately 59 million unique visitors per month (source). Realtor.com has approximately 55 million monthly unique users (source).
How to Convert More
Realtor.com®

Leads
Complete Your Profile
Never purchase ad space on home search sites with an incomplete profile. Include pictures, reviews, and past sales. Agents that include videos in their about me section also experience higher conversion rates. In addition, the general public often makes decisions based on star reviews. If you have 3 stars of less, consider reaching out to your reviewers, asking for new reviews (to balance out the poor score), or switching to a new platform.
Research Before You Invest
Before investing into Realtor.com®'s advertising space, do a quick search on the site to see how many agents are using Realtor.com® marketing services in your target zip codes. Do a quick search of the zip code and click on a property is not featured. Refresh your screen several times to see the list of featured agents change over time, keep a tally to see how many agents are featured. If there are many agents in your area, it may be difficult to convert many of these leads.
Know Which Site Fits Your Market
Middle markets are best for Realtor.com. If you have high end or low end clientele, look closer at whether leads are form filling on these sites.
Respond ASAP
Time is a huge variable when it comes to internet leads. The longer you take to respond to their email or text message, the less likely they'll be to convert. Online consumers expect instant gratification and have little patience. Automating your followup process will ensure leads get the attention they need while you are out of the office or busy.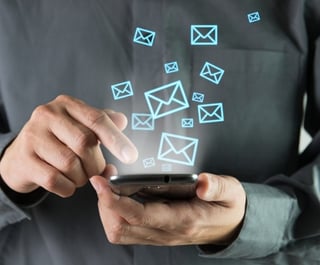 Zurple responds to leads within the first five minutes of their inquiry. Leads will recieve instant, personalized messages based on their previous home search history. Zurple's ata-enriched email and text messages reference everything from previous properties leads viewed to specific neighborhoods. Best of all, Zurple is integrated with Realtor.com. Meaning, each lead Zurple agents generate on Realtor.com, leads will be auto-enrolled in our follow up software. Optimize your followup and start converting more of your Realtor.com leads: