In the age of Yelp, Angie's List, and a plethora of other consumer information and review sites, simply having a nice website, or being a nice person for that matter, just won't cut it for your business. For real estate agents in particular, this is where having authentic, credible testimonials to help set you apart comes into play. As a realtor, in many ways your portfolio of real estate testimonials is now just as important as your database of prospects.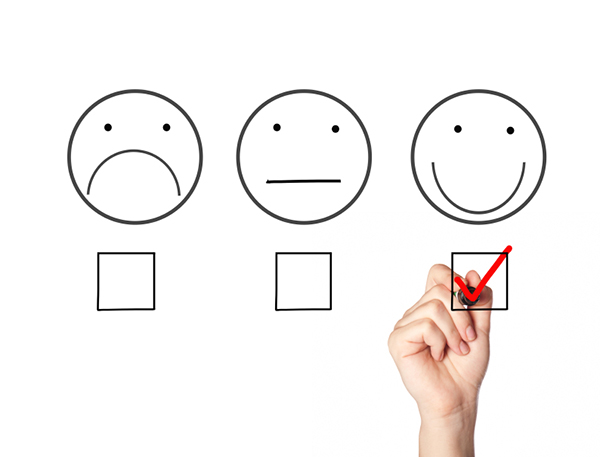 In this post, we'll cover two things:
How to generate valuable real estate testimonials from future business

How to generate valuable real estate testimonials from prior business
Developing a system
For better or for worse, testimonials rarely, if ever, occur organically in the real estate space. This is evidenced by the extremely high percentage of '5 star ratings' agents receive on many review sites. Note the distinct lack of negative reviews or objectivity relative to a restaurant search on Yelp (the snapshot below is from a Yelp realtor search in San Diego, CA…. on page 6!). It's also worth noting that many top real estate 'platforms' such as Trulia and Realtor.com allow only recommendations.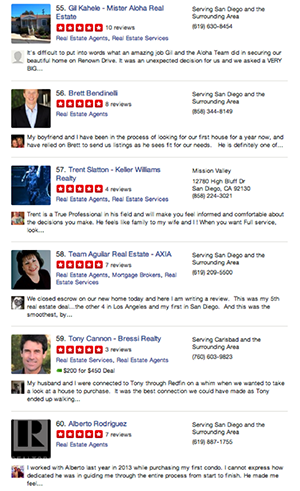 Here, it's probably helpful to distinguish between asking a client for a positive, public review or recommendation and a full-blown testimonial that you can use on your personal website and in marketing materials (for the purposes of this post, we'll treat them the same).Regardless of the specific 'ask', you need a system to convert your happy clients into valuable testimonials as they close escrow (strike while the iron is hot!).
Below is a framework for a testimonial system we've seen work well with some of our customers at Zurple:
1. Inquire about setting up a 1-hour engagement review (aka "How'd I do?") meeting – get a verbal agreement to participate
2. Choose a time and place for the meeting that is most convenient to your client
3. Find out (you should already know) what your clients love to drink (good coffee, tea, wine, scotch, etc) and bring it along for them to enjoy at the meeting
4. Start the meeting by asking your client to write answers to the following questions:
Would you recommend me as a real estate agent to your friends and family? If so, why?

In what areas did I excel as your real estate agent?

In what areas could I improve for future business?
5. Explain to your client how you plan to use this information by showing them examples online
6. If you're asking your client to leave a review for you on a specific site, have the site open on your laptop and walk them through the process (account creation, writing the testimonial)
7. After the meeting, don't forget to send a thank you note (and perhaps more of that special drink they like!)
Capitalize on prior successes
To garner testimonials from clients you've already been successful with, follow the framework below:
1. Make a list of all past clients that you've spoken with in the last 90 days
Call each person on the list and inquire about sending over an engagement review form

For those who have agreed to participate, email them a PDF of the form containing the same three questions listed in #4 in the section above – along with instructions for any specific review sites you're targeting

Follow-up by sending a gift – even before they've completed the ask

Via email or phone, cover step #5 from the section above
2. Make a list of clients you've been successful with but haven't communicated with in the past 90 days
Find a good reason to reconnect with each person – email should suffice

Wait 60 days

Follow the same directions in above, starting with the "call and ask" (#1)
---