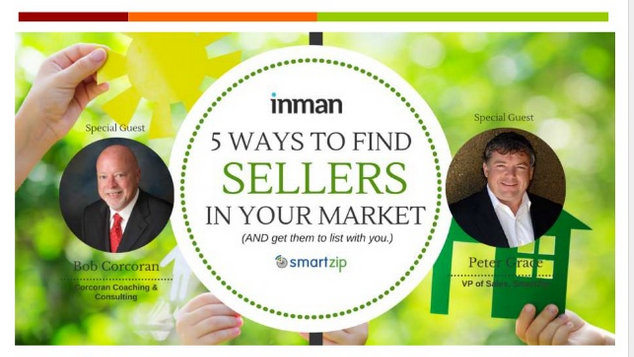 In this webinar, real estate coach Bob Corcoran, Peter Grace of SmartZip and Laura Monroe of Inman sat down together to discuss a variety of methods you can use to find, engage and convert potential sellers. The webinar was focused on real estate trends, marketing strategies and technology tools that can help you find local sellers fast and beat out the competition.
Here are the top webinar takeaways:
Start looking at your business as a corporation and view yourself as the CEO and start making better business decisions.


Learn your data and track results regularly. Keep spreadsheets on your seller data, how many closings you get from each media source, total commissions, your ROI and your overall business profit and loss.


Work ON your business. Study your numbers and analytics and work IN your business – engaging with buyers and sellers and nurturing ongoing relationships.
Want to Learn How to Get More Deals
from Your Online Leads?
Register for our webinar.
To build your brand and reputation - ask yourself, if I were a seller, would I do business with me? If the answer is no, determine why not and fix it.


Cater to your client's communication preferences by asking how they prefer to be communicated with.


Connect with busiest agents in your area and offer to help in any way possible to build a good working relationship that will eventually allow you to ask for referrals.


Provide leads and clients with unique value-add offerings to make yourself stand out from the crowd (things like customized seller reports, pre-appraisals, staging consultations and professional photographer services).


Pay close attention to technology trends. Know what your buyers are looking for in homes and what technology can optimize the value of a listing.


Have a well developed post closing follow-up strategy in place:

Get and share testimonials (including video)
Congratulate your client and share their story on your website, blog and social channels.
Regularly follow-up with your clients, transaction sources and referral resources.
Ask for referrals whenever possible.
Top 5 Sources of Seller Leads:
Your Past Clients:

Reconnect with clients you haven't talked to for a few years – they will remember you.

Online Sources:

Develop a strong online presence. Make note of how people are finding you - is it your blog, social media or past clients? Once you've identified your most effective entry points, nurture those channels and track your data so you see and leverage trends.

For Sale Signs:

Be proactive and strategic about placing your signs in a way that you will attract seller leads.

Sphere of Influence:


Are you taking to the right people? Identify your top 25 referral sources and show your appreciation by picking up the phone to check in.



Interactive voice response:


Give leads access to detailed, professionally voiced and recorded curbside property descriptions. This system really appeals to millennials.

Want to see the whole presentation? Click here to check it out on SlideShare.

How do you find and convert seller leads?
---
We're excited to announce the upcoming release of our newest Conversations™ software product addition - Seller Leads.

Want to be the first to dominate social marketing
in your target cities?