Welcome to this week's Agent Insights guest blog post. Today, Jared Christiansen, a real estate agent who makes up half of the Christiansen Team out of Fort Wayne, Indiana - shares his thoughts on working out of a home office.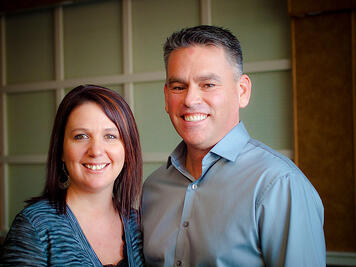 Here's Jared:
Being self employed and being able to work from home is one of the best things in the world... aaaand sometimes one of the worst. Today, I'm going to reveal what I consider to be the good, the bad and the ugly elements of working at home. Let's start with the positives...
The GOOD:
Right now, I'm sitting here in a pair of shorts and a t-shirt (no shoes!), sipping my coffee and getting some work done - and it's awesome! No formal office attire here.

I can be at work within minutes of waking up. That's what happens on most mornings.


When I'm not out showing homes, working from home saves a lot of gas money.


I also save a ton of money working from home because I don't eat out much. There's always food in the fridge!


When I need a little break, I can step out on the deck and hang with our beagle and border collie.


When I shut my office door, there isn't much that can get to me. There are no other agents wanting to chat and no loud speaker announcements ringing through my office - just comfort and concentration.
The BAD:
In a word, distraction.

Sometimes my neighbor Steve will stop over to say hello...

...sometimes my dogs will start barking at somebody walking by or will go crazy trying to catch that ever elusive squirrel...

...and every once in a while I'll find myself wandering by the fridge and the ice cream will call my name. I'll eat a few bites and then decide that I want to check in on the news. 30 minutes later I'm sitting on the couch watching a documentary on Netflix... not cool.

Thankfully it doesn't happen THAT often.
The UGLY:
I live by a train track and a busy intersection. That's not a good combination, especially when I'm on the phone with a client and the windows are open.

If I had a nickel for every time I had to put my client on hold for 45 seconds, I probably wouldn't be blogging - I'd be on a yacht heading to my own private island.

As you can see from my lengthy "Good" list and very short "Bad & Ugly" lists - I really enjoy working from home. The freedom is great, even though it means being disciplined and facing challenges from time to time.
Now I turn the question to any readers that work out of a home office - what are your thoughts?
Jared & Amanda Christiansen work as a dynamic real estate team in Fort Wayne, Indiana. They are both wholly committed to outstanding customer service. If you want to learn more about Jared & Amanda, you can visit their website at realrealestatefortwayne.com.
---

Like this post? Check out our free 37 page Agent Insights eBook!


---

Do you want to be the next guest blogger in our Agent Insight series? We want to hear from you!