It's one thing to manage your own day-to-day tasks - it's another thing entirely to keep a group of agents with shared tasks organized and on track. The good news is, there are several tech tools that can be used to simplify the process. If you're looking for a great task management solution to help your team get more done, you're in the right place.
3 Task Management Tools Perfect for Real Estate Teams:
If you're not crazy about the idea of getting granular with your time management or if you feel like you've got a good handle on your schedule but could use some help with your organization, a solid project management platform is the tool for you. Asana is free for basic membership and Asana Premium can range from $21/month to $333/month depending how many members need access to the software.
From the Website:
Asana has re-imagined team communication from the ground up. Conversations and tasks are in one place, so everything is actionable and transparent. When less of your time is spent in email, you'll have more time to go get work done.
Notable Features Include:
Assign Tasks:
Sick of living in your inbox? Assign tasks to yourself or your teammates rather than sending emails.


Organize Projects:
Organize initiatives, meetings and lists into shared projects and tag people whom you'd like to follow progress.


Use Asana's Inbox:
Emails are a thing of the past! Asana allows you to send messages and receive automatic project updates without ever leaving the program.


To learn more about Asana, visit: www.asana.com.


---
If you're a small business looking for a task management program that will get you up and running quickly, Wrike is a great option. Wrike allows up to 5 users with their free account.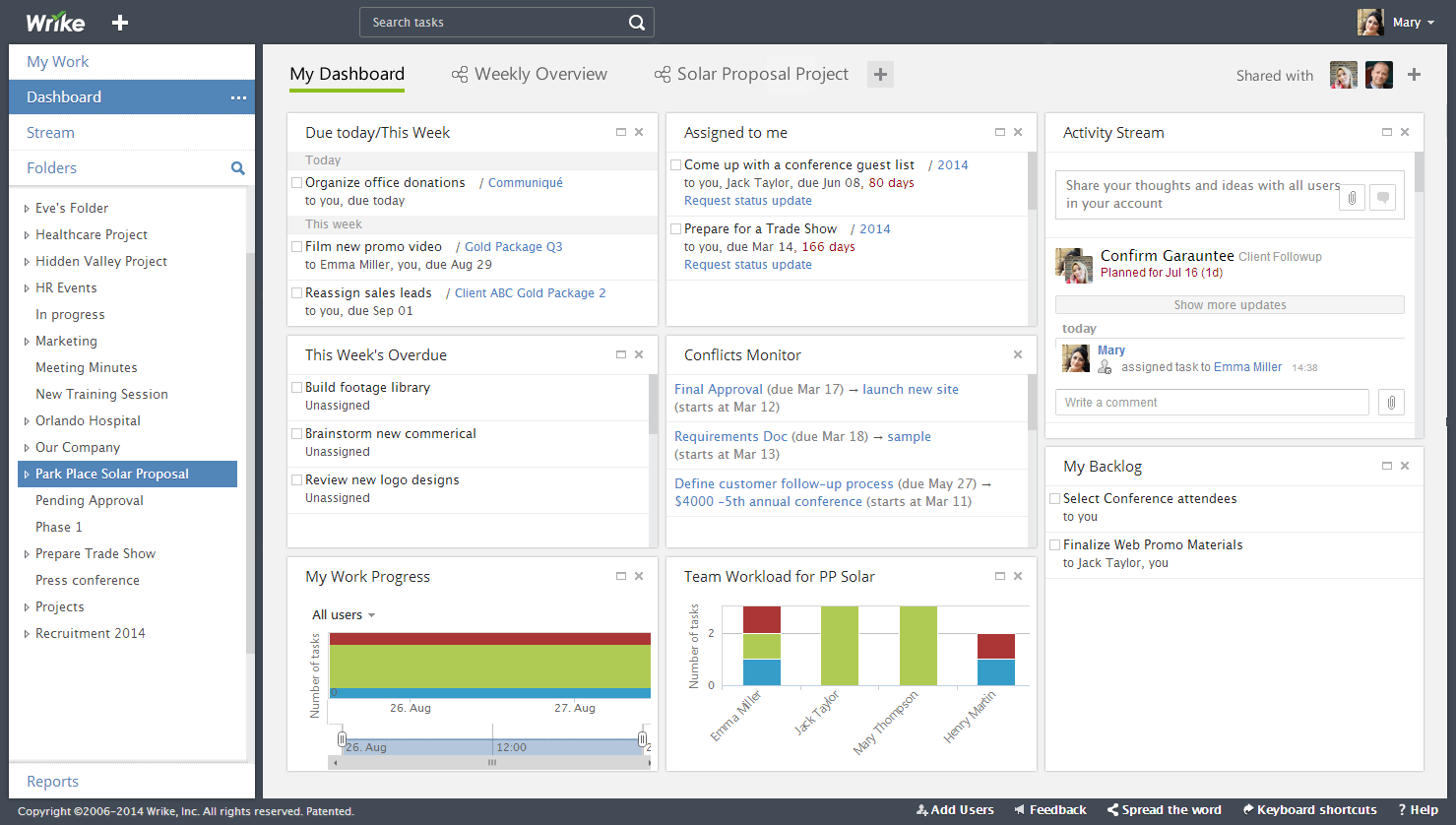 From the Website:
Named "Cool Vendor" by Gartner in 2014, Wrike is a leading software platform that delivers a blend of work management and collaboration features — so teams can stop jumping back and forth between different work and communication tools, and get all their work done in one customizable space.
Notable Features include:
Outcollaborate:
Create customizable projects that include graphs, task progress bars and real time updates. Share them with teammates to keep everyone on task.


Work Smart:
Assign the right people to the right tasks with Wrike's custom user groups and selective file sharing.


Accelerate:
Use the duplicating feature to assign recurring tasks that automatically syncs to almost any calendar including Google Calendar, Outlook Calendar and iCalendar.

To learn more about Wrike, visit: www.wrike.com.
---
Flow helps teams share tasks and keep track on what they need to get done. It's the perfect place for you and your team to manage tasks, share files and have discussions about projects. Flow provides new users a free 30 day trial (cost varies by # of user accounts after trial expires).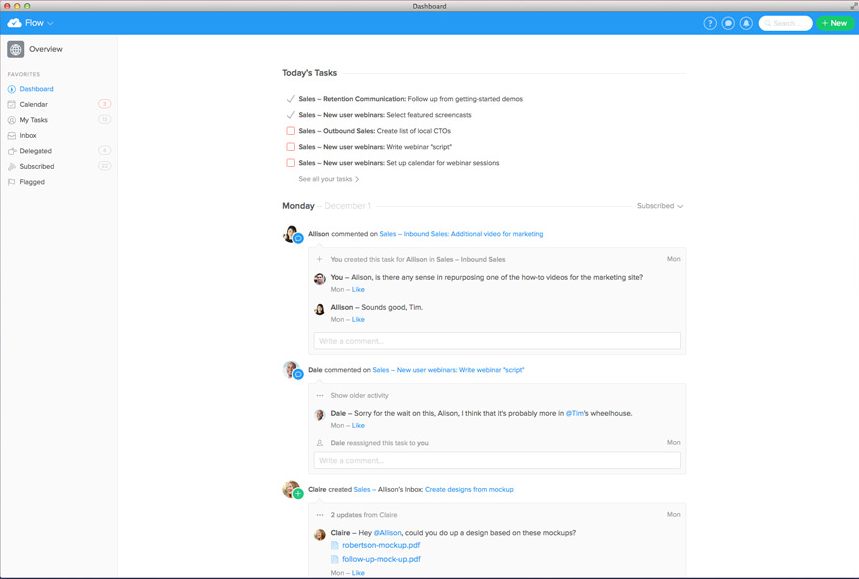 From the Website:
Every day, thousands of companies all over the world depend on Flow to manage projects and keep track of what they need to get done. Delegate tasks, have discussions, and store all your important files in one place, easily accessible to your whole team from the web, smartphone or tablet.

Notable Features Include:
Task Management:
Flow clears any confusion of delegating tasks to your team. Users can assign and prioritize tasks so that the right things get done by the right people in the right order.


Project Management:
Keep projects on the right path with instant updates on problems and progress.


Kanban Boards:
The Kanban feature allows you to organize projects into stages and assign relevant tasks as movable cards allowing for a complete system for planning an entire project.
To learn more about Flow, visit: www.getflow.com.
---
Crazy about apps? Check this out: