Quick! You are at home making instant noodles, and your phone pings you with an alert. It's a lead! You have a somebody looking at homes in one of your farming areas! Do you: A) Finish cooking and eat your dinner? Or B) Turn off the stove and order take out?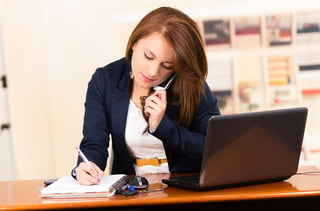 Why You Should Follow Up with Real Estate Leads Immediately

The Statistics
Based on studies dedicated to time of lead follow up, you can quite possibly finish your dinner and then call your leads. According to Hubspot, companies that try to contact potential customers within an hour of receiving queries are nearly 7 times as likely to have meaningful conversations with key decision makers. Take that tidbit of information with a grain of salt because this statistic applies to all industries, not specifically real estate.
According to Inc.com, the likelihood of lead response drops dramatically within the first minute when broken into seconds…and drops even further after 60 seconds. According to them, your best chance is within 1-2 minutes of receiving the inquiry.
According to the California Association of Realtors, the leading reason clients are selecting their agents is they seemed the most responsive. A 37% of homebuyers expect their agent to respond within the hour, and 26% expect an instant response. Great news for Californian Realtors, because they are exceeding these expectations.
What This Means for You
With Millennials now overtaking Baby Boomers as the largest demographic of homebuyers, you must take a look at your follow up strategy and update it accordingly. Home shoppers today expect follow up from their agents. Most consumers will expect a response within an hour, but we recommend that instantaneous response when possible so prospects don't think you trying to do the bare minimum.
What Zurple does for you:
The great thing about the Zurple software, is it has you covered when it comes to following up with leads just starting their home search. Zurple's email automation software, Conversations™, sends leads instant emails based on their initial search criteria when they first filled out a form on your site. If leads came from Zillow, Trulia, or Realtor.com, they will also get a text message from you.
Zurple starts Conversations™ with your leads through intelligent behavior-based software. Conversations responds to all their emails and site activity just like you or an assistant would. When they raise their hand and ask something more detailed, we pass them off to you to close the deal. It is a seamless process, and leads will have thought they were talking to you the entire time!
---
Want to know how Zurple works?