Today we'd like to share Bob McTague's real estate success story with you. Bob is a highly organized, very effective agent and team leader based in Syracuse, New York. He's been using Zurple since 2010 as a system to help keep his real estate team's leads organized. Today, the system plays a major role in Bob's day-to-day operations and overall success.
This is his story:
Driven Solo Agent Builds Top Ranking Team in Syracuse, New York with Zurple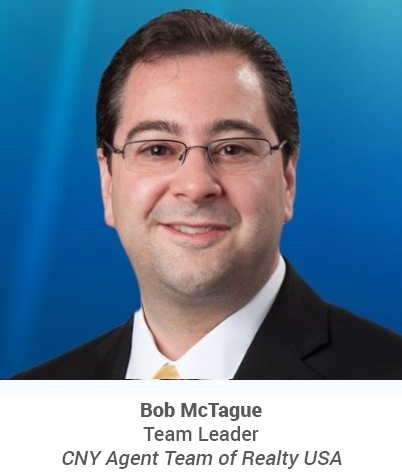 Bob began his career in real estate in 2006. Though the internet was just starting to become a hot topic in real estate, Bob understood that building an online brand was essential to long-term success. His goal was to build a team of agents who share his passion and drive
- which he did in 2008.
STATS:
leads per year
(from Zurple)


transactions per year
(from Zurple leads)


average commission
(per transaction)
---
Company Bio: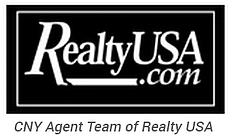 The CNY Agent Team of Realty USA, led by Bob McTague, is an elite group of top performing agents wholly dedicated to helping their clients execute flawless real estate transactions. The team offers decades of combined experience and dozens of quality resources for buyers and sellers in Onondaga, Madison, Oswego, and Cayuga counties.


---
The Early Days: From Investor to Agent
In 2004, Bob sold his business in Massachusetts and moved to Syracuse, New York - where he began investing in real estate. As an investor, he learned the ins and outs of the real estate space and in 2006, Bob decided it was time to become a licensed real estate agent so he could help other people with their life-changing real estate transactions. Bob started to build his online brand and, thanks to his industry background, quickly established himself as a go-to resource in the New York area. In 2008, Bob started to develop The CNY Agent Team of Realty USA and he needed a system that he could use for lead generation and management - so he contacted Zurple.
Bob was driven to grow quickly and make himself known as a top agent in the Syracuse area. In order to do so, he worked diligently to establish a professional online brand and to incorporate proven systems that would help him consistently generate leads, manage those leads and build a long-term nurturing system that would act as an ever-growing lead pipeline to feed his business.
Nothing in Real Estate is "Set it and Forget it"
After Bob built out his team, his biggest challenge was figuring out how to find the time to effectively respond to and nurture all the leads that were generated from his large-scale lead generation programs. One of the biggest perks of Zurple's software is the fast follow-up. The system replies to all new lead inquiries within a five minutes, a feature that Bob has found to be exceptionally valuable with his extremely busy schedule.
Bob and his team quickly realized that Zurple was a great lead nurturing software - but they didn't just sign up for the program and walked away. Though the software is built to provide automated marketing, the most successful Zurple agents are those who play a proactive role in monitoring their pipeline. Agents like Bob who make an effort to follow-up on all alerts for outreach and identify additional opportunities for lead engagement see the best, most consistent results. Bob dedicates an hour or two each day to managing his Zurple and Zillow systems - and he even hired an inside sales specialist to proactively manage his lead pipeline and send one-on-one follow-up as needed.
With Zurple, Bob consistently gets around 500 leads and 30 transactions each year.

To read the rest of Bob's story - click here view his complete case study.
---
"Zurple is a user friendly system.
My whole team uses it on a daily basis
and we consistently see big results."
---
Ready to start your success story?