Top Agent Seeks Control & Consistency - Zurple Delivers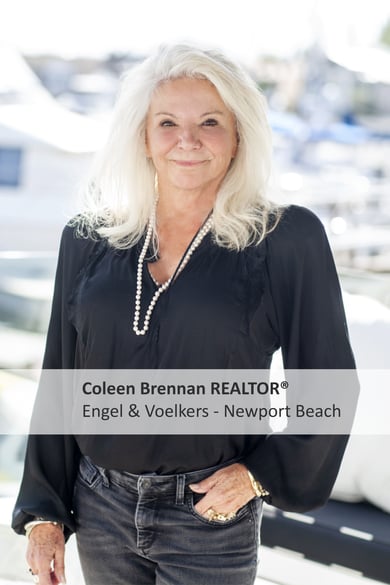 Coleen didn't start out in real estate, but she did start out knowing exactly how to build a successful career. She knew right off the bat that she needed proactive solutions to help get her to the top - and she chose Zurple to be her partner in success.
STATS:
actively nurtured leads
(in her Zurple database)


annual commissions
(on average)


in her offices
(for the last 24 years)
---
Company Bio:

Engel & Völkers Newport Beach is a global real estate and lifestyle brand providing high quality services for those seeking to buy and sell real estate properties.


---
From Speech Pathology to Realty
Early on in her career, Coleen was the Director of Speech and Hearing at a facility for the physically and mentally challenged based out of Utah. She loved how rewarding it was to be a Speech Pathologist, but quickly tired of all the red tape involved in working for a state-run facility. In an effort to find a career that would provide more control, Coleen accepted a sales-driven role that provided her with a larger stake in her own success. There, she encountered roadblocks in the form of manufacturing challenges and weather delays. That's when Coleen decided it was time to move to pursue the industry that allowed her to have maximum control of her destiny - real estate. She was excited to get started on a career path that would allow her to have complete control of her outcome and was looking forward to having the freedom to be as successful as she wanted to be.


With experience on her side, Coleen knew she was going to have to work hard to build her real estate business - and she was up to the challenge. From day one, she found herself working seven days a week and serving as a highly disciplined real estate expert. The only thing she was missing was additional lead sources that would contribute to her business growth.


Coleen was actively shopping for a new lead provider when a Zurple Account Executive gave her a call. She went through a product demo, liked what she saw and decided to give us a shot. A few weeks in, she knew that the level of control that she was able to have over her lead nurturing and follow-up was going to make Zurple's software solution a great addition to her business. Unlike popular competitors, Zurple offers lead exclusivity - which was a huge benefit to Coleen. She enjoyed knowing that rather than competing with 2 other agents for each new lead, the lead was hers and hers alone.
"I like to be in control -
and Zurple lets me do that."

Work-Life Balance Drives Success
On the 'work hard' side, Coleen is no slacker. She has been the #1 agent in her offices for the last 24 years. That kind of success doesn't happen without an endless drive and a real passion for real estate. Coleen loves Zurple because she never has to be anxious about where her next deal is coming from. She has enough well-nurtured leads to have peace of mind and it helps her close more deals. Why? Because her leads (who become clients) sense that she's not desperate to try and sell them something, and see that she is a highly experienced agent who absolutely loves helping people with their real estate needs.
>>> read the rest of Coleen's story
---
Ready to start your success story?