Junior Agent Becomes Multi-Million Dollar Success Story with Zurple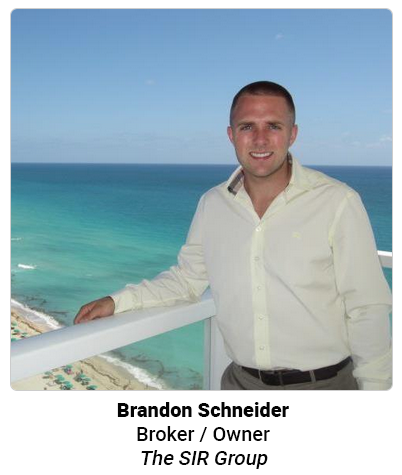 Brandon first joined Zurple at the beginning of his real estate career in 2011. From the start, he aspired to build his own brokerage and to become known in the luxury real estate market. In 2014, he got his chance.
STATS:
website visitors per month
(6 month average)


new leads per month
(6 month average)


top sales week
(from Zurple lead + referral)
---
Company Bio:

The SIR Group is a Miami brokerage committed to providing unprecedented service and representation to clients. The company specializes in helping both first-time homebuyers and savvy investors with residential and commercial real estate transactions in Ft. Lauderdale, Miami and Palm Beach.


---
Branching Out On His Own
Prior to deciding where his career was ultimately going to take him, Brandon studied finance with a focus in real estate at the University of Alabama. After college, he accepted a Real Estate Assistant role and found inspiration in the rapid business growth he was able to help his agent achieve – but it wasn't enough. Brandon has always been one to look at the big picture and becoming a broker was his long-term goal. His ambition, love for marketing and the reward of promoting his own service and image drove him to take the next step. In February of 2014, Brandon left his small team and branched out on his own as a Broker / Owner – and Zurple was his first hire.


Though Brandon had field expertise, he was starting from scratch when it came to building his new brand and generating quality real estate leads. With his Zurple software, Brandon was able to consistently generate and nurture local leads, which gave him the stability he needed to grow his young business.


Zurple's software simplified lead follow up for Brandon by providing transparency and intelligent automation. He's able to log in to the software at any time to see search criteria and behavior data for each of his leads. In addition, Zurple's lead nurturing system constantly monitors lead activity and sends personalized, relevant and timely email messages to not only keep leads engaged but also invite them to engage in direct conversations with Brandon. When a lead starts to exhibit hot behaviors – indicating that they may be ready for agent assistance - Brandon receives an alert that prompts him to take fast action. Complete transparency paired with automated follow-up allows Brandon to consistently meet and exceed his prospects' expectations, promoting new business.

"Zurple's follow up system, back office, and engagement is top-notch. 70-80% of my sales come from leads that originate from Zurple."
>>> Click here to see the rest of Brandon's story.
---
Ready to start your Zurple success story?