On Tuesday, March 27th 2018, Zurple's Vice-President of Sales and On-Site Director, Jack Markham, accepted membership into the Forbes Real Estate Agency Council.
Forbes Real Estate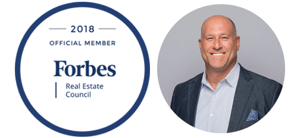 Agency Council is an invitation-only based organization. Executives within the real estate industry are hand selected based on their depth and diversity of experience. Council members consist of a diverse group of real estate industry professionals, including owners of high-level brokerages and senior-level executives of real estate technology companies.
Members have the opportunity to submit their own real estate related articles for Forbes.com. In addition, Forbes Council members receive access to a dedicated member concierge who acts as an extension of their own team, providing one-to-one support.
"I am excited about the opportunity to collaborate with the diverse team members at Forbes Agency Council," says Jack. "The Council's expertise and resources will further Zurple's commitment to helping real estate professionals grow their business."
Scott Gerber, founder of Forbes Councils, says, "We are honored to welcome Jack Markham into the community. Our mission with Forbes Councils is to curate successful professionals from every industry, creating a vetted, social capital-driven network that helps every member make an even greater impact on the business world."
Zurple is excited about Jack's opportunity to join this elite group of real estate professionals. We are looking forward to extending these resource to improving the Zurple program for all of our clients.
---
For more information about Forbes Agency Council, visit https://forbesagencycouncil.com/. To learn more about Forbes Councils, visit forbescouncils.com.