It's no secret that real estate agents hold open houses to promote themselves. If you're looking to generate buyer and seller leads from your next open house, consider the ten marketing tips below.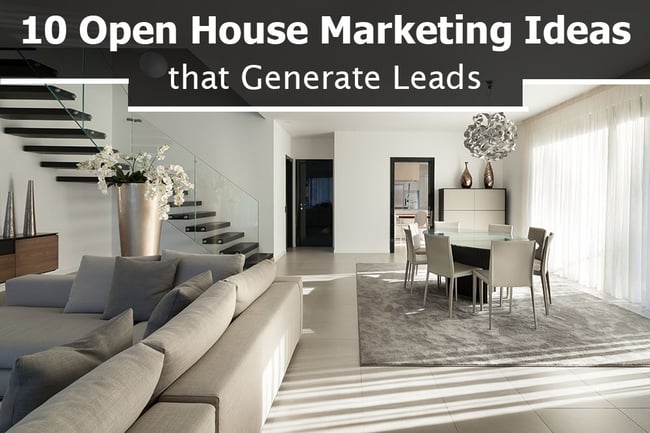 Find Real Estate Leads During Your Next Open House with these 10 Tips:
Choose a Property in a High Traffic Area

Do a CMA analysis to see if the area is being bought or sold at a high pace. Spend some time researching your MLS board to see which areas are worth having an open house in. If you're looking to find more seller leads hold an open house in an area with many sellers.



Announce Your Open House Via Email & Social Media

Besides your normal listing upload to Facebook, also announce your upcoming open house on all of your social media platforms. If you are announcing via instagram or Twitter, consider including an image with text in front announcing the open house. If you are unsure of how to create a picture based announcement, try Canva. Canva is a free graphic design tool that allows users to upload their own photos and insert text and designs.


While some younger agents may be quick to announce their open house via social media, newspaper, local ads, and marketing flyers still work. Print materials are also more reliable in terms of reaching your desired target markets.



Provide Free Food (that people actually like)

Consider theming the food around the style of house or geographic area. If you're selling a spanish style adobe, serve chips and salsa. If you're selling a mediterranean style stucco, serve pita chips and hummus. Being clever and festive with your marketing goes a long way. Be sure to always include free water as well.



Partner with Another Neighborhood Agent

Two is better than one. Hold an open house with another agent in the same neighborhood on the same day. Leads will be more inclined to step out of the house when there's more than one open house that day.


Video is the most engaging form of content. As companies begin flocking towards Snapchat, Facebook live, and Instagram videos, it'll be harder for traditional photos and text to stand out online. Aerial footage of your featured property will make your next open house feel like an exclusive event.



Educate Attendees

Leads will believe in your services when you tell them something they don't know about real estate. Ideas for educational materials include flyers on mortgage loan breakdown, neighborhood information (info on local schools, restaurants, events, parks, etc.), or a glossary of terms home buyers and sellers would find useful.



Create a Single Property Website

While this strategy is expensive, it may be worth it for some luxury or niche property listings (the fewer prospective buyers you have, the more advertising you'll need). There are not as many buyers interested in million dollar, green technology homes, as there are buyers interested in $300,000-400,000 four bedroom, 3 bath. Plus it'll generate online interest in attending your open house.



Have a Sign In Sheet

This old school tactic has truly stood the test of time. When we enter a room with people we do not know, we naturally look for something to occupy ourselves with. Leads may even feel less threatened to leave their name and/or contact information in person rather than online.



Have an Assistant Present

If you are also holding the open house to find a potential buyer, consider having an extra hand. Having an assistant available to provide home tours and negotiate price will leave you with extra time to speak with buyer and seller leads.


---
Need an extra confidence boost for your next open house? Feel prepared with our open house checklist: