This holiday season we'll likely consume countless gingerbread cookies, fruit cake slices, and cups of eggnog. Sure traditional Christmas desserts are nice to have, but why not spice things up a bit. Show your clients you not only have great taste in homes, but desserts too!
Photo Taken from: Tastemade
Cookie Butter Cheesecake Bars by Tastemade
Have you ever tried Cookie Butter? It's a highly addicting dessert spread made from speculoos cookies. Think of it as peanut butter on steroids. Tastemade combined cookie butter and cheesecake and it's out of this world.
What You'll Need:
2 packages of cream cheese (at room temperature)





1 cup of sweetened condensed milk or 1/2 cup powdered sugar





1 tsp Vanilla Extract





1 cup melted cookie butter + more to drizzle





340g speculoos cookies





1 stick of unsalted butter, melted
How to Prepare it:
First use an electric mixer to blend the cream cheese and vanilla extract, then stick mixture in the fridge.
With a food processor blitz the speculoos cookies until the cookies are like sand. Then add the butter and blitz until both are like damp sand.
Firmly press the crust mixture onto the bottom of a baking pan. Refrigerate crust for 30 minutes.





In a separate bowl beat the cream cheese, vanilla extract, and powdered sugar (or condensed milk). Fold in one cup of softened or semi melted cookie butter and mix well.
Take the crust out of the refrigerator and spread cream cheese mixture over the top. Then place whole speculoos cookies on top. Refrigerate the cheesecake for at least 4 hours.
Once the cheesecake has set, drizzle melted cookie butter over top. Cut the cheesecake into bars and be sure to refrigerate.
To get the whole recipe and more, visit:

Tastemade
---
Photo Taken from: Spoon University
Frozen Ferrero Rocher Cake by Spoon University
Did you already receive a bunch of Christmas chocolates? Put some of your Ferrero Rochers to use with this easy recipe.
What You'll Need:
5 Ounces of Chocolate Cookies (the type of cookie is up to you it could be oreo tops, biscotti cookies, chocolate wafers, etc.)
1 & ½ cup of heavy whipping cream
How to Prepare it:
Use a food processor to blitz the cookies and hazelnuts together, then add the melted butter.
Pat the mixture onto a pan to form the crust.
In a separate mixing bowl beat the heavy whipping cream until it starts to harden. Fold in the Nutella.
Pour the mixture over the crust and spread evenly. Top the cake with Ferrero Rocher Chocolates and place the cake in the freezer for 5 hours to set.

---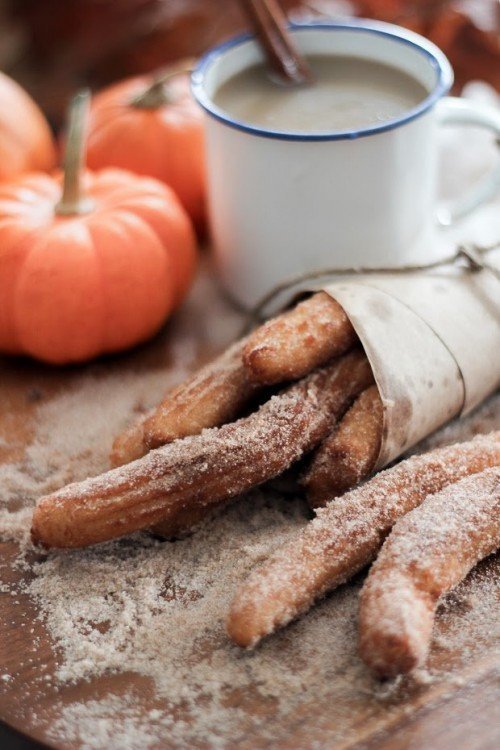 Photo Taken From: Magnolia Market
Homemade Churros by Joanna Gaines
Do you watch HGTV's Fixer Upper? Do you like churros? If you answered yes to both, then you have to try Joanna Gaine's homemade churro recipe. Everyone likes churros, but most forget about them after summer fairs and carnivals are over. Surprise your clients with this fun recipe:


What You'll Need:


2 cups all-purpose flour





2 1/2 teaspoons ground cinnamon





1/4 teaspoon ground cloves





1/4 teaspoon ground ginger





1/8 teaspoon freshly grated nutmeg





1/8 teaspoon fine sea salt





3/4 cup pure pumpkin puree





10 tablespoons unsalted butter cut into pieces





1/2 teaspoon vanilla extract





4 large eggs, at room temperature





Vegetable or canola oil, for frying





3/4 cup granulated sugar, for rolling




How to Cook it:
Combine the flour, 1 teaspoon of cinnamon, cloves, ginger, nutmeg and salt in a large bowl
Bring 1 1/2 cups water, the pumpkin puree, butter and vanilla to a boil in a saucepan, mixing constantly
Pour the pumpkin mixture into the bowl with the flour mixture and stir until the mixture becomes thick
Continue mixing the pumpkin, and add in each egg one at a time until the dough is thick and smooth
Place the dough into a pastry bag with a large star tip (or into large zip lock bag and cut tip)

Heat 2 inches of canola oil in saute pan
Pipe the dough directly into the pan in 3-inch pieces, cutting off the pieces with a pair of scissors. Fry for about 4 to 5 minutes or until brown and crispy
Stir together the sugar and remaining 1 1/2 teaspoons ground cinnamon in a separate bowl
Line a baking sheet with paper towels. Transfer fried churros to the paper-towel-lined baking sheet and drain the oil immediately. Roll the churros in the cinnamon sugar mixture


---
Don't Just Wow Leads with Desserts, Wow them with Zurple: