Would you like to receive good luck in the new year? Maybe better luck growing your Real Estate business? Many cultures believed that eating certain foods would bring good fortune in the coming year. Our post will provide a guide of which foods to eat, as well as a matching appetizer recipe.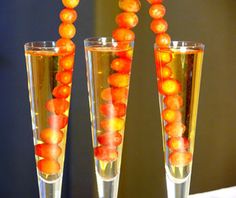 Photo Co
urtesy of Travel & Leisure
These 4 appetizers are sure to provide a conversation piece, while also bringing your guests good fortune:

Grapes:
According to Welch's, Spaniards ate 12 grapes at midnight to receive good fortune in the new year.
Each sweet grape the participant eats represents a good month, while each sour grape represents a bad month.
Try Champagne with Grapes by Martha Stewart
What You'll Need:

1 bag of green or red grapes

1 package of wooden skewers

1 bottle of champagne

How to Prepare It:

Place 12 grapes on each skewer and serve each skewer with a glass of champagne.

To view the whole recipe and more, visit Martha Stewart.

---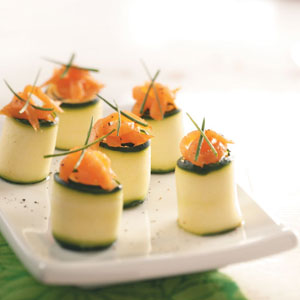 Photo Courtesy of Taste of Home


Fish:
In China, fish are often ate at the turn of the new year. According to
Women's Day
, the word for fish in Chinese sounds alot like the word for abundance. Many other cultures believe fish to be a sign of good fortune, as their silvery scales replicate money coins.


Try Salmon Cucumber Rolls Recipe by Taste of Home
What You'll Need:
½ cup cream cheese, softened
1-1/12 teaspoons of prepared horseradish
¼ teaspoon of garlic powder
¼ teaspoon of curry powder
1 medium cucumber
1 ounce of smoked salmon/lox cut into thin strips
Salt
Ground Pepper
Chives

How to Prepare It:

Combine cream cheese, horseradish, garlic powder, and curry in a small bowl, set aside.

With either a vegetable peeler or cheese slicer, cut 12 very thin slices down the length of the cucumber. Pat slices dry.

Spread 1 teaspoon of cream cheese mixture down the center of each cucumber slice and roll up.

Place salmon on top of rolls. Sprinkle rolls with salt, pepper, and chives.

Serve immediately or chill for later.

To view the whole recipe and more, visit Taste of Home.

---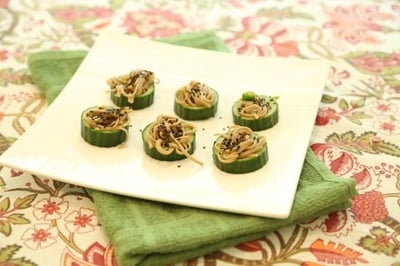 Photo Courtesy of The Edgy Veg


Long Noodles: According to Today, the Japanese eat noodles during the new year. The length of the noodles is said to represent longevity in the year to come.



Try Soba Noodles in Cucumber Cups by The Edgy Veg
What You'll Need:


1-2 large cucumbers
2 cups of soba noodles, cooked and chilled
2 tablespoons of rice vinegar
1 ½ tablespoons of tamari
1 tablespoon of sesame oil
3 green onions, thinly slices
Siracha to taste

How to Prepare It:

Peel the cucumber(s) and cut into 1 ½ inch rounds. Scoop the insides of the cucumber out and create a cup.

Whisk rice vinegar, soy sauce, and sesame oil together. Add green onions in, while keeping some for garnish.

Toss the noodles in the sauce mixture with your hands to coat. Allow the noodles to marinate for up to 30 minutes.

Pack each cucumber cup with noodles, while twirling the noodles for added flare. Pour extra sauce over the noodle mixture and garnish with remaining green onions.

Serve right away or chill for later.

To view the whole recipe and more, visit The Edgy Veg.

---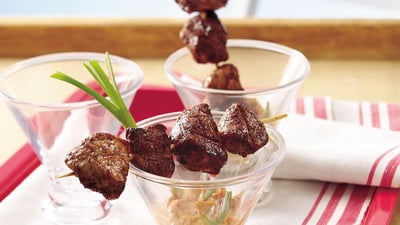 Photo Courtesy of Betty Crocker

Pork: Believe it or not, pigs can bring good luck. According to Epicurious, pigs root themselves forward into the earth while eating (as opposed to chickens that scratch backwards), thus symbolizing progress moving forward. In Cuba roasted pork is served in the coming year, while in Italy, pork represents good wealth, due to its rich fat content.



What You'll Need:

1 Pork Tenderloin (¾ to 1 lb)
1 tablespoon of chili powder
1 teaspoon of ground cumin
1 teaspoon of packed brown sugar
¼ teaspoon of garlic powder
⅛ teaspoon of ground red pepper (cayenne)
½ cup of mayonnaise
½ teaspoon of ground mustard
1 medium green onion

How to Prepare It:

Cut the pork into 1 inch pieces and set aside in a medium bowl. Mix chili powder, cumin, brown sugar, garlic powder, and red pepper in a separate small bowl. Take 2 teaspoons of the spice mixture and set aside. Pour the remaining spice mixture over the pork pieces and mix well.

Mix mayonnaise, mustard, 2 teaspoons of spice mixture, and chopped onion in a small bowl. Set bowl aside.

Heat gas or charcoal grill. Spray a grill basket with cooking spray and then placed pork inside of the basket.

Place the pork filled basket on the grill and cook for 10 to 12 minutes. Shake the basket once or twice. Cook to you desired level of doneness. Place pork bites on toothpick skewers and serve over a bowl of mayonnaise dipping sauce.

To view the whole recipe and more, visit Betty Crocker.

---
Need Better Luck Finding Real Estate Leads in 2017?