As home prices continue to rise in 2017, more homeowners will become motivated to sell their house. However, traditional seller lead generation tactics, such as calling FSBOs and door knocking are not enough to remain competitive in today's market. Try these five out of the ordinary lead generation tactics to gain new listings.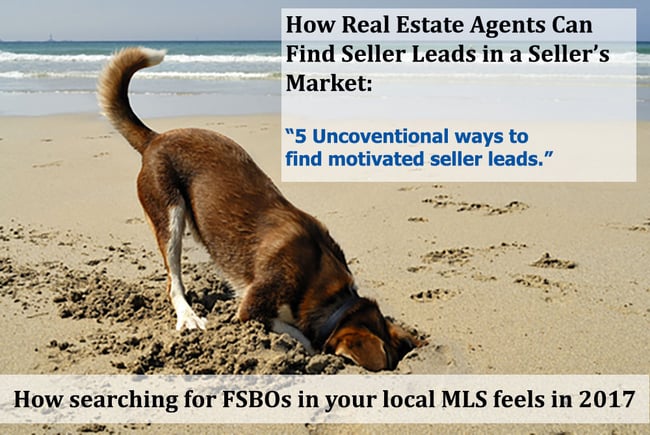 Try these 5 unconventional methods to find motivated seller leads in your target markets.
Facebook Groups


Research topics real estate seller leads are interested in, such as garage/estate sales or home staging. Search for Facebook groups centered around these topics, such as "Garage sales in San Diego," or "Home stagers San Diego," Create your own blog post on the same topics and repost to applicable Facebook groups. If blogging is not your thing, share insights to town hall meetings, local events, or historic pictures.

Have you used Facebook graphs yet to find leads in your neighborhood? Try Zurple's free Facebook graph search guide. Each guide includes instructions on how to find local leads, use filters to pinpoint specific lead types, and which keywords to enter when searching for local leads on Facebook.



Probate Sales


A probate sale occurs when a homeowner passes away intestate or without bequeathing the property. In non-legal jargon, this means the individual either did not leave the property in their will or did not transfer ownership before their death.

Keep an eye out on your local newspaper's obituaries either online or via print versions. Search deceased individuals names in your county tax assessor's database and see if they ever owned properties. Then begin checking on probate records in your area. If you have any attorney contacts, consult them on ways to access probate records.



Open House Raffles


Ask open house attendees at either yours or a colleague's open house to leave their business card or contact information in exchange for a prize. Ask participants to be in the market to sell their home soon, that way you avoid participants that are not in the market. Make the prize to either a gift card to a local restaurant, charity, or a combination of home goods.



Search for Burnt Out Landlords


Begin your search for non-owner occupied properties through your county tax assessor's office. Check if rentals in your area have an owner with a tax exemption for the properties. Then segment your list by number of years the property has been owned. This way you can easily reference landlords that have recently stopped renting or who have been in business for a significant amount of time.



Search for Out-of-State Owners

Out of state sellers are especially motivated, as they are often paying for the upkeep of property they do not visit. Best of all, other agents and investors are less likely to be targeting out of state sellers. To obtain a list of these sellers, contact your county's appraisal district and begin searching property records one by one to see if the owner's mailing address is in another state. A less-time consuming, more expensive approach would be to purchase an excel sheet from the appraisal court and separate the out of state owners with a pivot table. For instructions on how to insert a pivot table, reference Microsoft Office's tutorial here.
---

Need additional help finding seller leads? Download Zurple's free appointment booking tool: "An Agent's Guide to Stress Free Home Sales." This appointment booking tool is a ready to use listing presentation in PowerPoint format. Simply insert your name, logo, and contact information. Share this free guide in listing presentations, via email, and on your social media profiles.
Get your free appointment booking tool here: