Loan officers are a crucial element in each real estate transaction. Home buyers expect agents to be involved in every step of the process, including loan approval. Agents want to assure their clients are in good hands and that there will be no unexpected delays. According to NAR, 45% of first-time home buyers said the mortgage application and approval process was more difficult than expected. When agents partner up with a trusted lender, they're more at ease that their client will close a deal feeling satisfied. We've created this list to help you find a trusted lender that will streamline your sales and increase your referall rate. Look for these attributes when partnering up with a lender.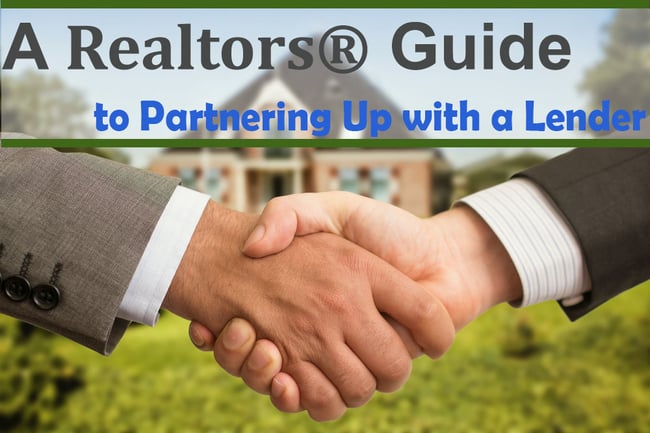 When partnering with a lender, look for these 6 characteristics:
Accountable
Both Real Estate and lending are filled with uncertainties, meaning the best agents and loan officers are accountable. Your lender should be willing to invest time into your clients. Should be taking the time to explain what your clients can do to ensure their loan is approved.


A good lender will regularly update the client and agent on the status of the client's loan approval process. Likewise, you should be communicating your lead's mortgage requirements to your lender. Be certain you are both 100% committed to the business and to one another.


Has Diverse Product Offerings
Be sure your lender has Mortgage Product Offerings that match your client base. Pick a mortgage provider who specializes in loan types your clientele Local lenders will know the market well.


Experienced
Choose a lender with a proven track record, so you know your client is in good hands. Also, be sure that their track record can be backed up factually. Today's consumers are self-educated, meaning they've likely researched mortgage options before your referral.


A Good Fit
As for type of lender, an Inman and 1000watt study found 47% of agents prefer mortgage brokers, 31% prefer bank lenders, and 22% prefer non-bank lenders. Choose a lender whose working style and client base is similar to your own.


Willing to Market Together
We wouldn't go as far as to say you should share a marketing budget, but you should be willing to at least connect on social media. There can be no immediate transactional benefit between real estate agents and mortgage lenders by law. However, your lender can and should mention you in their direct mail, and email campaigns.

Take it to the next level and share leads with your lender. Sharing a CRM for you and your lender's leads will streamline your marketing efforts and client communications. Zurple allows agents to add in lenders to their back office. Both you and your lender can receive timely email and text message alerts on your lead's activity, letting you and your lender know what your leads have been up to and when it's time to give them a call.
---
See what Zurple can do for your lender partnership: