There is much debate in the real estate industry on the viability of open houses as a lead generation strategy. Regardless of what side of the conversation you are, there are a few action items to take if you are a proponent of the open house debate.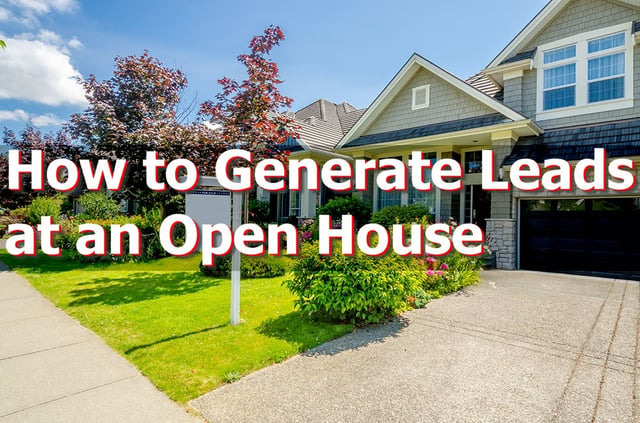 Here are Some Open House Lead Generating Tips:
Don't Rely on Sign Up Sheet
One of the best pieces of advice we've heard is from Shannon Ensor, a REALTOR® in Austin, TX, who says to not rely on your sign-up sheet. She argues sign-up sheets are old fashioned and don't build enough trust with visitors of your open house. In her book Your Key to Open House Success she suggests providing a clipboard with a questionnaire that visitors can fill out during their walkthrough of the house. At the bottom of the sheet, guests can give their information for a drawing to a prize such as a gift card to a local business.
Listen
Think back to your Sales 101 class, you should listen more than you talk to build rapport with potential home buyers and home sellers. Think back to those moments you let a client talk themselves into a sale while you chuckle to yourself how easy it was. They will tell you what the research they've done, what they are looking for, and issues that only you can resolve for them.
Talk
Welcome visitors at the door! Approach them during the walk through. Get them talking by asking questions about what they like or don't like about the property. Now is not the time to be shy. Don't plan on following up with these prospects at a later time, you have them in front of you now. Now is the time to make an impression!
Be Picky When It Comes to Open Houses
Your time is very valuable. That is the very reason time saving software with automation exists for you. If only there were something that existed to provide you the same luxury with open houses. In the meantime, there are many reasons you should say no to holding an open house. Then, there are open houses that you should absolutely agree to. These include newer listings, listings priced fairly, and listings in convenient locations. These will be more likely to yield you more foot traffic.
---
Looking to generate more leads in your area that are EXCLUSIVE to you? Sign up below!