With the summer months upon us, you likely have a few days off planned. However, you might feel uneasy stepping out of the office during the busy season. Luckily modern technology can keep your lead pipeline in place while you get some well deserved R&R. Use the checklist below to ensure your leads are getting the attention they need while you focus on recharging for the busy months ahead.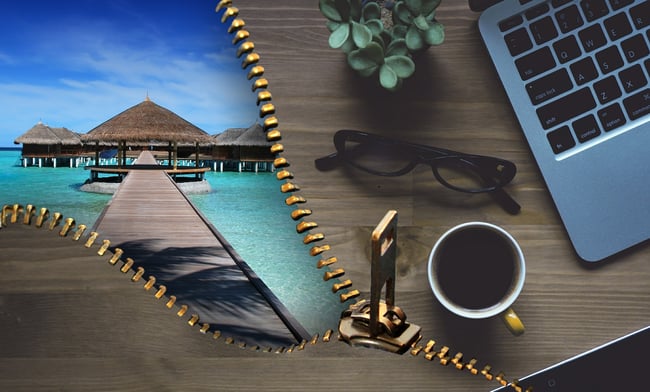 Try these 5 Out-of-Office Tips to Keep Your Real Estate Leads Nurtured
Update Your Voicemail
Let everyone know the dates you'll be out of office, your expected date of return, and whether or not you'll be returning calls while away. Even add a personal touch, let leads know where you are, if you are vacationing in a fun or interesting place. Leads will remember you if they know you both share a favorite resort, camping spot, or vacation destination.

Bonus: For tips on crafting the perfect voicemail check out this agent's blog from our Agent Insights Blog: http://blog.zurple.com/real-estate-marketing-tip-your-voicemail-is-your-elevator-speech
Turn on Automated Out of Office Email
Turning on your out of office should be a no-brainer. However, be sure to include those outside of your email contact list too. Also, if your primary work email forwards to another one of your email addresses, be sure you do not receive an out of office reply for each forwarded email.
Schedule Social Media Posts
Just because you're on vacation, doesn't mean you should stop updating your social media accounts. Last year 51% of home buyers found their home on the internet, according to a NAR study. Be sure to stay active on social media even while you're away to ensure you don't miss out on any opportunities. Facebook allows business profiles to schedule posts in advance. If you use other social media platforms such as Instagram, Twitter, LinkedIn, or Pinterest to generate leads, consider using a social management software, such as HootSuite, PropertyPulse, Agorapulse, SocialPilot, SproutSocial, and Sendible.
Make Room in Your Inbox
If you have been receiving a "mailbox is full" message lately, be sure to make room in your inbox before stepping out of the office. Nothing's worse then not knowing which leads you missed out on, because of a simple technical fail.
Check Your Calendar
Make sure you do not have any upcoming meetings, listing presentations, phone calls, or events with leads in your pipeline. A surefire way to turn a hot lead cold is to cancel on an in person meeting. If you are unable to attend a pre-existing appointment, be sure to have another member of your brokerage fill in for you.
Automate Email Your Follow-up
Agents that are successfully generating and converting online leads have an automated nurturing system in place. Most (if not all agents) do not have enough time to call, text, and meet with each online lead that visits their site. That's why Zurple created Conversations™.

Conversations™ is intelligent lead nurturing software. Unlike other email automation platforms, Conversations™ does not drip, but sends each lead personalized email and text messages. These personalized messages reference specific properties and neighborhoods leads viewed online. Each lead that forms fills on your IDX site will be auto enrolled in our Conversations™ software, so that you don't have to worry about following up with leads when you're away. Best of all, Zurple notifies you when a lead is ready to convert, or when it's time to call a lead. If you're interested in learning more:
Other Out of Office Tips:
Cancel Mail Delivery (if no one will be in your office)
As a safety precaution, make sure your mail is not visibly piled up outside of your office. This could make it obvious that you've been out of the office for quite some time.
Plug in Office Electronics
Electronics such as fax machines and computers should be plugged in. This will prevent these electronics from dying or turning off suddenly. Some clients may still use fax to send over important closing documents and may become frustrated if they need to resend because your fax machine turned off while you were away.
Notify Your Co-Workers
Let important stakeholders at your brokerage know you'll be out of the office two weeks in advance. If you manage any other agents, let them know they'll need to ask any questions or place any project requests in advance.
Create a Return Checklist
Create a list of all the things you need to do when you return from vacation. Your mind will be at ease while away, if you know you'll remember what to do when you return.
---
Need more advice on how to nurture online leads?
Watch this free webinar: