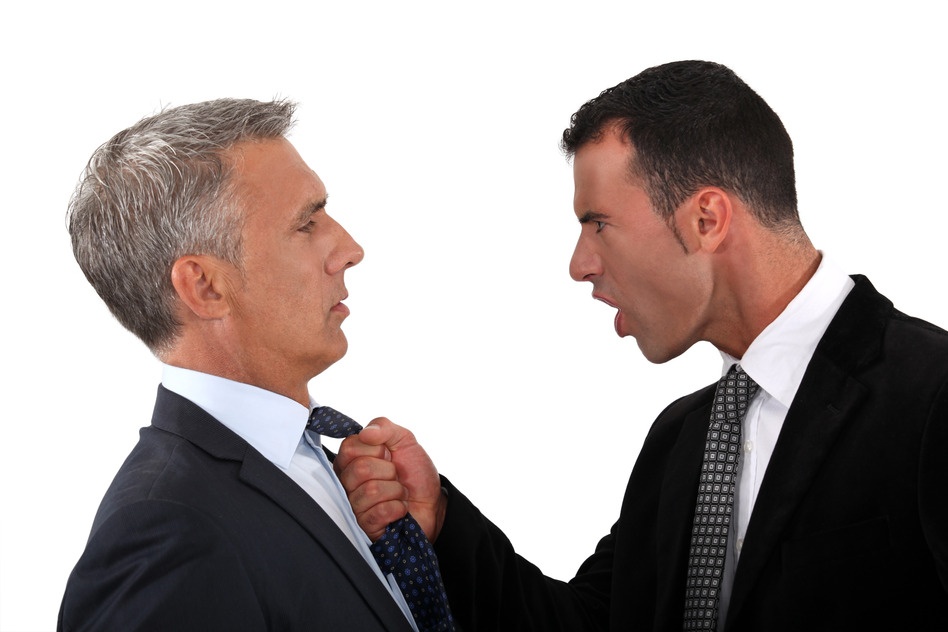 Dealing with a tense work environment is no fun for anyone. As a real estate broker, you need to know how to act as a mediator (aka human fire extinguisher) so you can quickly put out anger flames when a dispute flares up in your office.

As with most things, there are lots of different ways to handle disputes - some much more effective than others. In order to make sure you can maintain a healthy, peaceful workplace - it's important that you know the best way to tackle conflict when it comes your way. Follow these guidelines to learn how to quickly remedy disputes in a way that will be agreeable to all parties involved.
7 Steps to Effectively Handling Disputes
Identify the severity of the issue:

In most cases, you'll be able to work with your agents to handle the dispute in a calm, professional manner. But - if any involved parties are really fired up, it's always wise to ask them to walk away from the situation and clear their heads before you make an attempt to talk them through it. Neglecting to do so may result in spontaneous outbursts that cause long-term damage to the working relationship.



Invite all parties in, one at a time, so you can hear all sides of the story:


Keep your agents from becoming defensive by hearing them out one at a time. Ask open ended questions to gather as much information as you can. Actively listen to all sides of the story and do your best not to be biased.



Don't be swayed by previously existing tension:

Prior conflict can cause future conflict - and if you're dealing with a situation that arose between parties who have disagreed (possibly frequently) in the past, it can be easy to assume blame based on those past transgressions. Try your best not to let it impact your thought process as you listen to all sides of the story. Treat the situation as if you are a juror serving in a court of law and assume all parties are innocent until proven guilty - regardless of what your historical knowledge may suggest.



Ask each party, individually, for solutions:

Putting the responsibility back on the instigators of a conflict can help them come to an agreeable compromise. Before you wrap up your conversation with each person involved in the conflict, ask them each to come up with three possible solutions to the issue. Doing so will not only give you an idea on where each party is at in regards to what they would consider to be fair, it will also give you a starting place when you present potential resolutions.



Do your best to identify the real source of the problem:

Once you have all the information you need to asses the situation, it's time to try and figure out what went wrong and how the issue can be peacefully resolved. In some cases, the issue won't clearly be one person's "fault" over the others. Instead, it may be a result of a third party's error or a misunderstood instruction. Try to put yourself into each person's shoes when working through the issue to make sure you have empathy for all parties when it comes to potential outcomes and how they may impact your agents and do your best to identify the root cause of the problem.



Sit all parties down and highlight solutions that are most mutually beneficial:

Start off by thanking each person for their openness and honesty and for being willing to work together on a resolution. If there was any dishonest information presented in their conversation with you, leading in with a comment on how much you appreciate integrity may bring it to the surface during mediation. Next, explain all sides of the issue and point out any outlying things you've identified that may have impacted the situation that led to the conflict.



Decide on a compromise and talk about how to prevent future conflict:

If you're in a situation where all parties are being respectful and receptive, present two or three possible solutions and allow them to agree on the best outcome. If you're still facing adversity or your agents aren't being cooperative, it's time to put on your boss hat and make a decision on their behalf.
Use this problem solving strategy to avoid blow-ups that cause long-term workplace discontentment and negative energy.
How have your resolved conflicts in your office? Share in the comments below.
---
Looking for more real estate broker advice on how
to streamline your business?