Welcome to this week's edition of Agent Insights. Today, we're highlighting Loren Coburn - an Associate Broker for RE/MAX Elite out of Norman, OK. In addition to serving as Broker / Owner, Loren also serves as the Team Leader of The Coburn Group. In today's blog, Loren shares his insight on day to day challenges of the real estate field, advice for new agents that are just starting out and the biggest rewards of the job. Enjoy!
Here's Loren:
Thanks for chatting with me today, Loren. To start - please share a brief bio: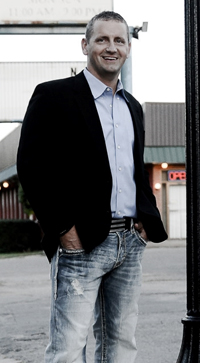 My background is in construction. My strong work ethic led me to work for everything I have. I've been in the real estate industry as a full-time Realtor since 2010. I'm lucky to have three amazing children and an amazing wife who supports my dreams and helps me stay grounded.
What made you decide to go into real estate?
I have been around the home building industry for most of my life - I actually started learning construction at just 10 years old. I have built over 300 homes and gained a ton of knowledge from countless hours on job sites. In 2008, I decided to obtain my Real Estate license so I could list my homes. That's when it hit me that real estate is what I wanted to be doing - and my dream started to become a reality.
Great story! Can you name a couple of critical things that helped you get started in the field?
Having a construction background has helped me tremendously. I was used to selling the homes I helped build, so that part was easy. In 2008 and 2009 - I went through some tough times. I even got to the point where I had to take other jobs to support my passion.

In 2010, I set a lofty goal - and that's where it all began for me. I decided that real estate was going to be my career - that it's what I wanted to do until I retire. I realized I needed help getting started so I began searching for a mentor - a lead agent who could help me get going. Having leadership and guidance from someone who was passionate about helping me succeed was critical to getting my business off the ground. It provided the type of foundation every agent needs to be successful.
So overcoming that initial hurdle was a big one for you. Moving forward from there - what are some bumps in the road that have helped shape your career?
Bumps, ha... I'd say more like mountains I had to climb. I definitely learned some hard lessons. First - agents need to understand basic marketing and what it means to market the right way. Young agents get bombarded by salespeople promising the world. My advice? Don't buy the first service that is pitched to you. Learn first, then when you are ready to invest in some marketing tools, do you homework and make an informed decision.

Ultimately, it all goes back to knowing how to effectively market to your leads - regardless of where you get them. You can have 500 leads in your inbox and if you don't know how to convert them you've wasted your money anyhow.
Great advice. What are some of the biggest challenges you encounter on a day to day basis and what do you do to overcome those challenges?
I find it challenging to keep up with the trends, Facebook, Twitter, YouTube, etc. Our industry is changing every day and if you don't change with it - you will get left behind. To stay current, I watch other businesses outside of my market to see what they are doing. When I see something that's working, I incorporate it into my own marketing plan. I never try to reinvent the wheel, I just always try to make it better.

Another challenge is having enough time to accomplish everything I want to do in a day. I have a five agent team and my company is growing. I want to be more available for my team - and it's hard. I am 100% focused on customer service and I want all of my agents to learn to always make their clients top priority because my experience has taught me that communication is the key to real estate success. Now if only I could find a few more hours in each day...



Your success is inspiring. What advice would you give to up and coming agent?
I tell all the agents on my team and in my office the same thing; don't quit your day job. By that, I mean in order to be successful, you must treat your new real estate business just like any full-time job. Beginning with your very first day, you should set a schedule and go to work every day that you've scheduled. If you're working the business every day - you have a much better chance at succeeding. If you treat it like a hobby, it will fail and fail quickly.

Another tip? Prepare your family for long hours, being on the phone all the time, answering the phone while you're on a date and working getting listing done, contracts out and marking.
A real estate career isn't an overnight success. Being successful in our industry takes a strong work ethic, dedication and am unending desire to understanding the market and, most importantly, to understand how to create relationships with clients that will be loyal over the years and will send referrals your way.
Let's close with a fun question - what is the most rewarding part of your career?
There are two huge rewards. The first is that I get to help friends and clients accomplish the American dream of home ownership. The second is that I get to act as a trusted partner in achieving that dream. Realtors aren't sales people at all - we are experts in our field, here to support and assist in the home buying and selling process. We act as the voice of our clients - and I love it!


Thanks for all your great feedback Loren!
Readers:


What part of Loren's interview resonates the most with you? Share in the comments below.

Want to learn more about Loren?
Connect with him on Facebook or visit his website.
---

Like this post? Get our free 37 page Agent Insights eBook!


---

Do you want to be the next guest blogger in our Agent Insight series? We want to hear from you!