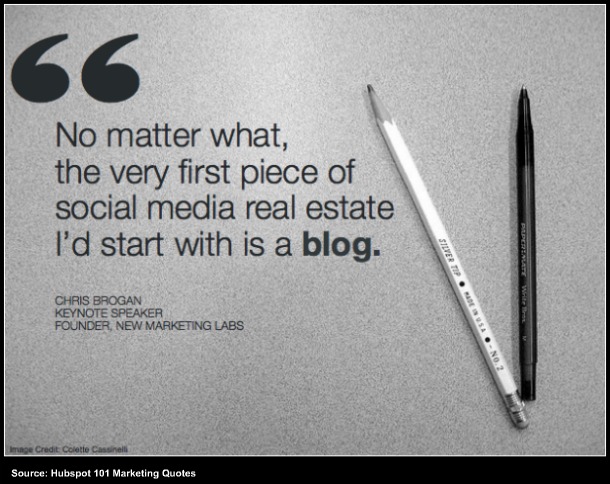 We are always on the lookout for the real estate blogs that stand out from the crowd. Today, we're sharing a few that really illustrate how to share valuable information that will effectively engage readers.
Each of these bloggers listed below are successful at educating their audiences while making their content engaging and relevant. If you've been looking for some successful blogs to inspire your own content creation efforts, this is a great place to start.
Pro Tip:
Before you put fingers to the keyboard, learn how to reach your ideal reader with our Lead Targeting Blueprint.
Top 5 Real Estate Agent & Broker Blogs (listed in no particular order):
Blogger Andrew Fortune is a Realtor in Colorado Springs. His blog offers a great mix of buying and selling tips, information on local real estate trends and memorable infographics. In his blog, Andrew regularly shares ideas on how modern technology can make buying and selling easier and more efficient for consumers.


Blogger Bill Gassett is a 28-year real estate veteran and is the owner of Maximum Real Estate Exposure in Massachusetts. Bill is one of the top social media influencers in the real estate industry, and he curates and publishes some of the best content we've seen. Check out his recent Agent Insights post on how to incorporate content curation into your business.


Blogger Jay Thompson, known as the granddaddy of real estate blogging, was co-owner and the Designated Broker of Thompson's Realty in Phoenix, AZ. Jay founded his blog in May of 2005 (yes, that's 10 years ago… impressive!) and he developed it into one of the most widely read real estate blogs in the country. His blog was even recognized as Inman's Most Innovative Real Estate blog in 2009. Though he's no longer active on the site, all Jay's archived posts on the Phoenix market, current events and state, regional and national issues related to real estate still exist for your reading pleasure.


Blogger Nicole Doty owns a real estate boutique agency in Arizona. She is the mastermind behind the Zion Realty blog, which has a strong millennial appeal. Her content is fresh and her blog features a mix of updates about the local real estate market, in combination with personal editorial pieces that provide valuable insights to readers looking for a new perspective.


Blogger Greg Nino is a Realtor and Team Leader at RE/MAX Compass in Texas. In his blog, Greg shares timely, relevant content that is useful to his audience. He focuses on what's going on in the community, real estate stats and buying and selling advice. Some of his blog posts have been featured in both national and industry related publications, such as the New York Times and Texas Realtor Magazine.
What are your favorite real estate blogs and why?
---
Struggling to come up with compelling blog titles?