You are a real estate agent, and your whos government stimulus check came in, or maybe you just closed on a deal and now have some extra money from your most recent comission. If you are looking for a creative way to flush that money down the toilet then look no further.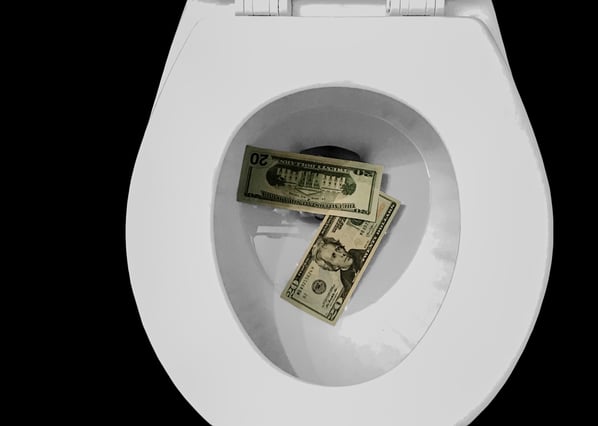 6 Ways to Waste Money in Real Estate
1. Hiring The Incorrectly
Sometimes you just need help right away, and you will hire anybody. Or maybe you will hire a friend, family member, or person from within your network. That's how most people will find their real estate agents anyway, right? Well - there should still be a hiring process when looking for agents, to make sure that home buyers and sellers are hiring the right person for the job. Be sure to carefully review everybody you are hiring, otherwise you might as well throw that money towards whatever the newest cryptocurrency is that is trying to compete with bitcoin.
2. Expensive Gifting
When giving closing gifts for your clients, it's easy to go overboard to show them how much you appreciate their business. The higher the price tag doesn't necessarily always convey a higher sense of gratitude. When building a relationship with your clients, it is important to make note of what brings a spark in their life. Is it the passion for their job? Is it their children's dreams? Are they obsessive Star Wars fans? Knowing this type of information can help you choose a thoughtful, and cost-effective, gift that establishes that you KNOW who your clients are as people.
3. Incorrect Listings
Incorrect listings can include overpriced listings, listings outside of your niche, or listings too far outside of your farming area. Not only does it take some of your dedicated marketing dollars away from other listings, it also takes your precious time away as well. You should know when to say "no" to a listing that is not right for you. Your time is money, and you shouldn't be wasting it. whenTime is
4. Choosing the Wrong Brokerage
Speaking of wasting time, this is a common problem some new agents come across. It might be unavoidable for newer agents, but can be an easy dodge for veteran agents who know their way aroud the industry. Some brokerages simply aren't in an ideal alignment with your personal goals. Find yourself one that is.
5. Services You Don't Utilize
Often on internet message boards you will see agents write "________ is a waste of money". Sometimes that may be true. From personal experience, I've seen that it's not necessarily the service that is costing them, but it is the fact they are paying for it and not using it. If you are going to invest your hard earned marketing dollars into a service - make sure you get the most out of it by actually using it. A gym membership alone isn't enough to stay in shape, you must also regularly go to the gym.
6. Not Having a ollowup System
Why would you spend so much money generating leads online, then never convert them? While it's true not all leads will turn into a commission, it is also true that some of these leads are missed opportunities due to lack of communication. Internet leads don't stink, they just aren't being properly followed up with. With consumer timelines elongating to more than just a simple 28 days, it takes time and patience to correctly convert these internet leads into new homeowners.
7. Red Flag Clients
There are some clients you should run from. In some cases, the ends justify the means - where the end goal is a paycheck, and the means is an obstacle course in the form of a needy client. This should also include clients you KNOW can be better served by other agents - for example, a person looking to buy commercial real estate might benefit from an agent referral instead of you personally taking on the task.
---
Need to generate seller leads while everybody is sheltered? Click below!