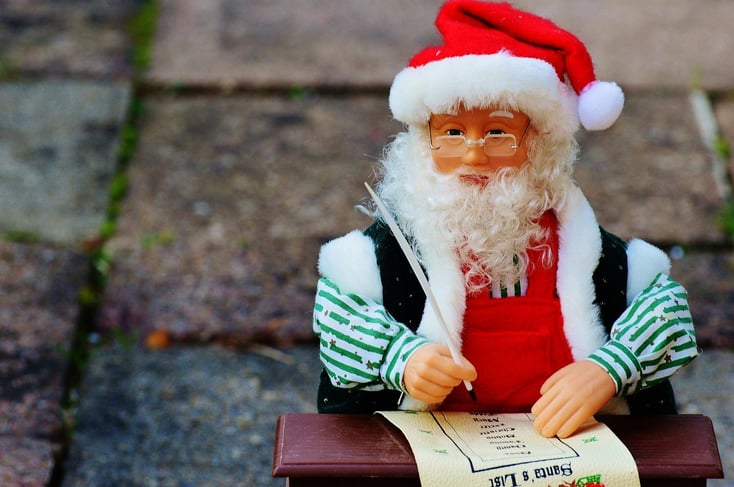 He's making a list, he's checking it twice, he's going to find out if you've been… A Naughty or Nice Real Estate Agent?
That's right. Santa knows all and gave us this short list, of naughty and nice Real Estate agents. But, really here at Zurple we believe in constant and never ending improvement. Even though we are bit old for Santa, we'd still like to know how we fared in 2016. This short list will give you an idea as to whether there will be any presents under your tree from the fat, jolly guy in red.
Which list do you fall under?
Naughty List
He knows when you are sleeping, he knows when you're awake, he knows if you've engaged in any of these naughty agent behaviors this year:
Treated Leads Inconsistently:
Without a proper lead nurturing system in place, many agents fail to keep up during busier times. Real Estate is a people oriented industry. Returning calls a day late and writing boilerplate emails won't get you very far.


Spammed Your Clients on Social Media:
We see this too frequently. Obnoxious agents repost their listings 20 times a day on Twitter and Facebook. In return, they never like their clients' posts and they never repost any other agents' content.


Pressured Clients to Close a Deal:
Clients need a little push now and again, but if they are unsure when they sign, they'll likely be unhappy with you later.


Kept Your Clients in The Dark:
It can be frustrating when clients ask too many questions, but an agent's job is to guide clients through the entire buying/selling process.


Spoke Poorly of Others:
Never speak unprofessionally of other clients and especially other agents. Real Estate is a small community. If you continue ranting on how difficult a client is, your next potential client may hear about it.


Relied Solely on One Type of Marketing:
Real Estate requires people skills, both online and in person. Successful agents will optimize new age tactics while keeping traditional marketing fundamentals in mind


Let a Few Deals Slip:
We get pressuring apprehensive buyers is unprofessional, but failing take initiative can cost you a few deals.
Nice List
So what does it take to get on the nice list? Here's a short list of Kris Kringle's qualifications:
Followed Up With Leads in a Timely Fashion:
For many finding new leads is the hardest part of being a agent. Good agents realize the potential in every lead and follow up in a timely fashion.


Generated Leads through Social Media:
We can't tell you how many success stories we've heard from agents who properly engage and generate leads on social media.


Tracked Your Lead's Online Activity:
Analyzing your leads' behavior on your listings can provide valuable insight. Knowing their property preferences in advance will make you appear to be the perfect fit!

Zurple provides a complete profile on leads' search behavior and notifies you which of your leads are most likely to purchase in the near future. To analyze lead behavior in 2017, click here.


Had a Lead Nurturing Program in Place:
In Real Estate, consistency is key. Successful agents will have a pipeline in place to make sure each prospective client receives the adequate amount of contact.

Smart agents use lead generation programs to take the work out of this time intensive process. Zurple makes sure each lead is accounted for. Zurple sends leads highly personalized emails and notifies you when the best time to call a lead is. Make Zurple your personal assistant here.


Kept in contact with past and present clients:
Good agents remember that a client is for a lifetime. Go the extra mile to plan a coffee date, Christmas party, or 4th of July cookout.


Included Closing Gifts:
Your client just made you money! No matter how difficult the entire process was, always include a closing gift.


Maintained Healthy Relationships with Real Estate Industry Professionals:
It's important to stay connected with other agents. Attend networking events, fundraisers, workshops, and seminars. Frequently update your LinkedIn and add new contacts. Join any local Real Estate institutes, societies, or councils.


Received Plenty of Referrals:
How many referrals did you receive in 2016? This is the ultimate sign of agent success.
Regardless of whether you were naughty or nice, plan for an even better 2017! Use your spare time to reevaluate your current marketing strategies. A proper lead nurturing system in place will ensure no prospective client falls through the cracks in 2017.
---
Want to ensure you'll have presents under the tree in 2017? Try Zurple Today!