Can't afford another real estate conference? Don't fret, because we're bringing one to you for free! Well sort of. In Zurple's upcoming webinar – Tech or Bust III, Top Tech Tips from Inman Connect, we'll be sharing content from this year's Inman Connect conference in San Francisco. Continue reading for more information on this upcoming webinar.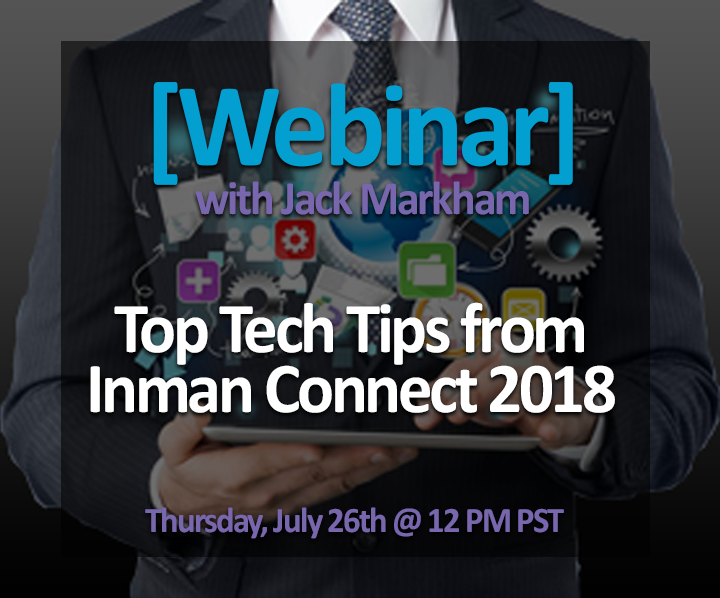 About the Webinar Host -
Join Zurple's Vice President, Jack Markham, for this live, 30-minute webinar on Thursday, July 26th at 12 PM PST. Jack will be siting on an Inman Connect Panel representing Zurple as a part of Constellation Software. Jack is currently a member of Forbes Real Estate Council and has hosted over 75 real estate events cross the US.
About the Webinar –
Jack will be sharing the latest tech innovations revealed at Inman Connect 2018. Specifically, technologies that can be used to connect buyers and sellers with agents. Each year Inman Connect features 100+ guest speakers from top MLS boards, brokerages, and real estate associations across the U.S. Jack will be highlighting the top takeaways from this year's Inman Connect.
About the Tech or Bust Series –
Jack Markham, creator of Million Dollar pipeline, is the host of the Tech or Bust series. In each 30-minute live webinar, Jack shares the latest in real estate technology developments. To receive a notification straight to your inbox of when the next webinar will be, subscribe below –

Follow the instructions below to register and save your seat for Tech or Bust III.
Fill out your contact details in the webinar registration site page
After registering you'll receive a confirmation email from Zurple Webinars
Zurple Webinars will send you another email the day of the webinar - Thursday, July 26th - with your link to join the webinar
---
Want More Great Real Estate Content? Get webinar announcements sent straight to your inbox, subscribe below -