Online marketing isn't a new or novel concept. And it's certainly not something that's lost on the majority of real estate agents in today's market. However, it has taken significantly longer for online marketing to have a BIG impact in real estate than it has in many other industries. Rest assured, the time has come. And the message to realtors who may still be reliant upon increasingly costly and ineffective 'traditional' marketing practices is clear: online marketing is now king.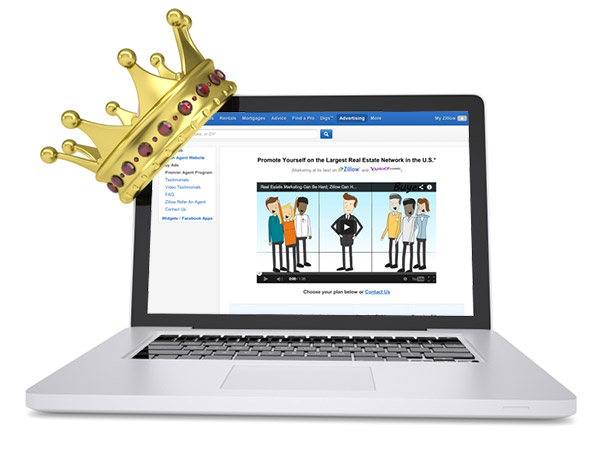 What took so long?
I suspect that the delayed impact of online marketing, broadly, in the real estate space has everything to do with the fact that real estate is such a relationship-driven business. But that hasn't changed, so what has?
The answer: the method(s) for prospecting and generating new leads. More and more homebuyers and sellers are finding their real estate agent online (the DEMAND) – and the trend-line is steepening. After that, though, it still comes down to effective engagement and the agent-client relationship.
The days of lead generation and acquisition of new clientele via traditional outbound marketing channels are coming to an end. If you're still spending marketing budget on billboards, print media ads, flyers, or urinal cakes (a la the 2009 movie "I Love You, Man"), it might be time to closely inspect the marketing ROI you're realizing.
The largest listing engines: Zillow, Trulia, and Realtor.com have in recent years successfully leveraged their client-focused platforms to provide lead generation services for agents (the SUPPLY). And to a large extent, these platforms have completely replaced the prospecting process. While each site has its own set of specific tools for real estate online marketing purposes, they take a similar approach in many respects to streamlining prospecting and lead generation for agents.
How can agents capitalize?
How can you make the most of online marketing tools to best position yourself for success today and in the future? To answer this question, let's consider some tips for making online marketing work most effectively for you, using Zillow's Premier Agent Program as an example where applicable. Many of the same principles apply to maximizing output across Zillow, Trulia and Realtor.com.
Tip 1: Build out your online profiles
This isn't a step to skimp on. The completeness of your profile will likely have a huge impact on the quality of leads that you're buying (as Zillow CRO Greg Schwartz will attest to). For Zillow, spend time developing a substantive summary and adding your preferred lenders and active listings to your profile.
Tip 2: Get online reviews from happy clients, then get more
Real estate testimonials are your place to shine. And you really can't have enough of them. How are you different/better than other agents? Your reviews will help you answer this important question. In Zillow's agent search tool, the results (after the featured listings) are sorted based on an algorithm that appears to factor in both the number of reviews and the overall rating of an agent (see image below – agent search in San Diego, CA).

Tip 3: Unify your online presence
Link to your profile and reviews in your email signature, on your website, or in ads that you're running online elsewhere. It's important to use consistent messaging and a single headshot across sites and media formats for personal branding.
Tip 4: Leverage your credibility
Prior to a listing presentation, point your homeowners to your profile(s) and reviews. This will help to establish credibility upfront in the process – which ultimately will increase the chances of that transaction running smoothly. Use every opportunity to leverage past success for future new business.
Tip 5: Find a niche market
If you're in a crowded market, it's advisable to consider finding a niche market to become an expert in. Then, build landing pages and/or websites for your specific niche, such as "condo expert" or "foreclosure expert". To tie it all together, display relevant reviews – specific to your niche subject matter – to help drive conversions on these sites. In Zillow, a number of niche categories are displayed to help buyers and sellers segment results (see image below – 'foreclosure' agent search in Philadelphia, PA)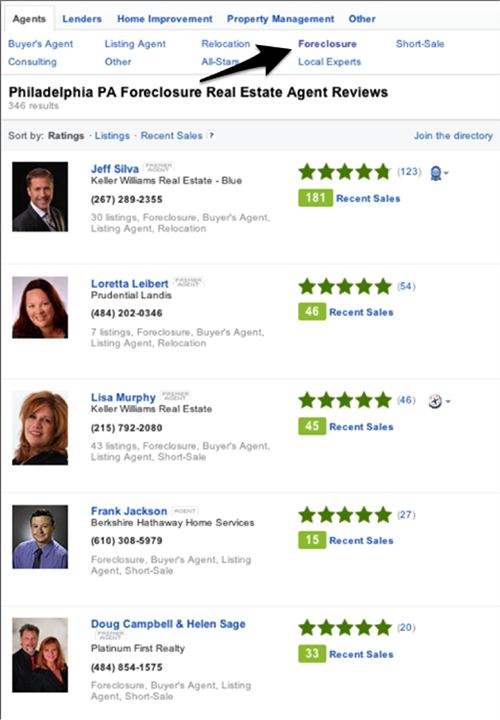 As you master online marketing (as many top performing agents already have), the question inevitably will shift from "How do I generate more leads?" to "How do I turn more leads into clients?". When you find yourself asking that question, it may be time to request a Zurple demo.