Zurple's new Customized Lead List Columns allows you to organize your pipeline YOUR way. With this exciting new feature you'll simplify and segment your sales pipeline while saving time and money. We've outlined below how to use the Customized Lead List Columns and the four benefits of this exciting new feature.

Customized Lead List Columns - How it Works
From your Zurple back office you'll navigate to your leads list, then select the Action "Customize Columns." Simply select the Columns you want to display in your lead list and deselect those Columns you wish to exclude. Then drag and drop Columns to sort the order of the display. Customizable Columns include Email, Search Location, Max Price, Last Visit, Date Created, Agent, Hot Behaviors, and Last Modified, Name, Phone Number, and Priority Rank!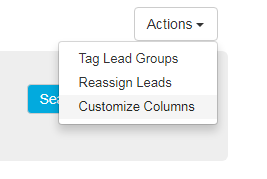 4 Benefits of Customizable Lead List Columns
---
To see Customized Lead List Columns and other exciting new product features in action, request a product demo below: