Lead capture best practices ensure your landing pages maximize conversion rates. Understanding which practices increase your lead generation rate will ensure you make the most of your real estate website. Follow the four strategies below to ensure your real estate website is capturing the maximum amount of leads.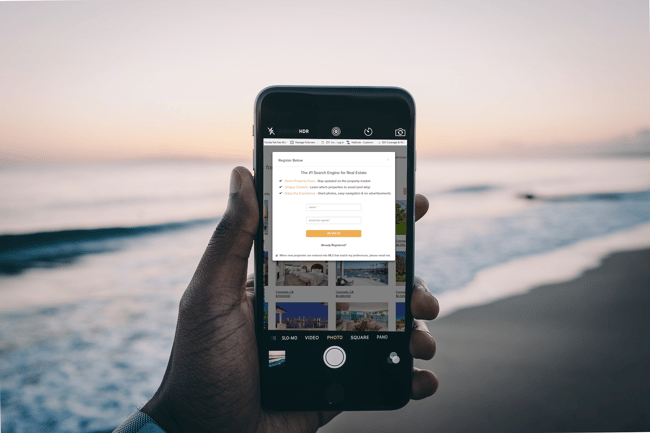 Provide an Incentive

If leads can access your entire site, they'll have no reason to give you their contact information. In your pop-up capture form, list reasons why the lead should register. Reasons could include property updates, market snapshots, and a better search experience (removing ads, larger photos, etc.). See the Zurple lead capture form example below for reference.



Don't Ask for Too Many Details

As a rule of thumb, leads are more willingly to provide their phone number than their email address. In fact requiring a phone number will decrease your submission rate by 47% according to our sources. Many agents incorrectly believe a "lead" is defined as a name and a phone number. According to Inman News, this is false. A lead is any contact that has showed interest in your business. A lead is even just an email address. The stronger your email nurturing campaign the more likely you'll be able to convert contacts with just email addresses and the more leads you'll generate.
Zurple lead capture forms require just an email address. This is because our Conversations™ software nurtures leads with personalized email messages. These messages can recognize 25 separate behaviors of online leads. To learn more about the real estate industry's most intuitive email automation software, schedule a demo in the link below:


Optimize Pop-Up Display Time

Have you ever opened a website, only to be bombarded with advertisements? These sites do not have a good user experience and likely have a high bounce rate. Test out different times for pop-ups to arrive on the user's page. You'll maximize your conversion rate and decrease your bounce rate when you know these stats.


To calculate your conversion rate divide your number of viewers by the number of form fills. You'll then know what percentage of leads are converting. This first step is necessary to checking in on the overall health of your real estate website.
We hope you found these tips beneficial to your real estate business. For more great tips subscribe to our Real Estate Success blog here: