The holiday season offers an important opportunity for Real Estate agents: the opportunity to get personal with contacts. Real Estate is a people business after all and top producers always show they care. Try these six Holiday marketing strategies to help you get personal and ultimately increase referrals and convert existing your contacts.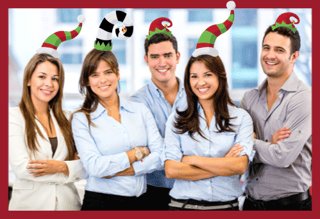 These Six Holiday Marketing Strategies Offer the Highest Return for Real Estate Agents
Mail Delivered Cards – These days more and more agents are emailing holiday cards. There is nothing wrong with this, but people still enjoy mail delivered cards. Think about most homes during the holidays. Many homeowners keep cards in a basket near their fireplace or tree. If you do not have a lead's street address, email delivery is a good alternative.

If you're in need of Real Estate themed holiday cards, Zurple has a few card templates. These 5x7" cards are the perfect for solo agents and teams. To download your holiday cards, click the link below:


Food Based Gifts – During the holidays, many homeowners are entertaining. A cheese basket or bottle of wine can supplement their party favors. Also, you can never go wrong with food, it pleases most and can always be re-gifted.


Gift cards – While gift cards aren't personable, they are the closest gift to cash, meaning it's the most expendable. The only downside to gift cards is that they are less original, and thus less likely to be remembered.


Holiday Messaging – On major holidays like Christmas, Hanukkah, New Years, etc. it doesn't hurt to send clients an email or post on social media. You wouldn't believe how many individuals enjoy a simple Merry Christmas email, with no mention of your business.


Community Events – The holiday season means many home owners have extra time off work. Holding a brokerage wide Christmas party or community service event is an excellent way to meet potential clients.


Home Buying & Selling Advice – Believe it or not many leads use their extra holiday vacation time to shop for a home or prepare their home for sale. Take advantage of their down time and offer free Real Estate advice. This advice could come in the form of a downloadable guide or a blog post.
---
Holiday marketing can show past clients and leads your care not just about their business, but about them personally. Real Estate leads require individual nurturing. After all they're choosing a single individual to assist with one of their largest transactions. If you find yourself with little time to nurture leads, consider Zurple. Zurple nurtures buyer and seller leads with personalized emails and text messages. Zurple software tracks lead's online home search history and sends personalized messages accordingly. If you are interested in learning more about the Real Estate industry's most intuitive email automation software, request more information in the link below: