Agent Insights - In this edition of Agent Insights, we highlight our 8 most popular posts of 2017. You, our audience, are our favorite source of knowledge. Here is what most of our readers were reading in the past 365 days.
Top 8 Agent Insights of 2017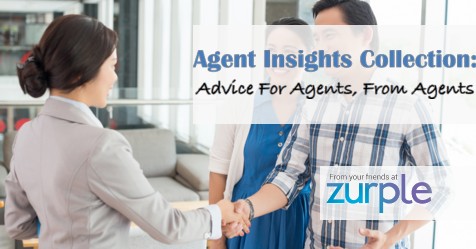 One of our favorite topics to cover on our blog are Agent Insights. We enjoy reaching out to members of the community to contribute to this blog. These are real estate agents giving tips to other real estate agents.
1. 7 Habits of Highly Effective Real Estate Agents
http://blog.zurple.com/7-habits-of-highly-effective-real-estate-agents
Bill Gassett gives us his opinion on 7 different habits that breed efficiency in real estate agents. This includes adsgasgadsgag.
2. What are the Six C's to Starting a Real Estate Blog?
http://blog.zurple.com/what-are-the-six-cs-to-starting-a-real-estate-blog
Many of the agents on this list are finding success because their blogs bring them traffic due to the search engine benefits included with blogging. Lynn Pineda gives their quick and easy tips to starting your own blog.
3. 10 Things Your Realtor Can't Tell You
http://blog.zurple.com/agent-insights-10-things-your-realtor-cant-tell-you
Here is a fun read by Mimi Foster. Frequently asked questions to REALTORS by real estate buyers or sellers that you simply can't answer. I'm sure most of you can relate to the questions being asked here.
4. How Driving for Uber Helped Me Get More Real Estate Business
http://blog.zurple.com/how-driving-for-uber-helped-me-get-more-real-estate-business
An interesting approach to real estate by Dustin Brohm from Salt Lake City. Who would have ever thought driving for Uber would benefit your real estate business? If you think about it, driving around the neighborhood and getting to know people is PERFECT for your real estate business.
5. Responding to a Wanna-Be FSBO
http://blog.zurple.com/responding-to-a-wanna-be-fsbo
Chris Ann Clelandcomments on their approach to the neverending struggle between real estate agents and FSBOs. This is how they respond.
6. How to Generate Real Estate Leads If You Do NOT Have a Database
http://blog.zurple.com/agent-insights-how-to-generate-real-estate-leads-if-you-do-not-have-a-database
Beth Atalay writes an excellent article for new or seasoned real estate agents. How DO YOU generate leads without an existing database? Here we get some fantastic insight on just how to do that!
7. The One Thing Super Successful Real Estate Agents Do Every Year
http://blog.zurple.com/the-one-thing-super-successful-real-estate-agents-do-every-year
Just in time for the new year, Candy Miles Crocker highlights the one thing that super successful real estate agents do every year. Can you guess what it is? And are you already doing it?
8. Four Ways to Increase Your Open House Sign-Ins
http://blog.zurple.com/agent-insights-four-ways-to-increase-your-open-house-sign-ins
If Open Houses are part of your business strategy for 2018, you may want to read Shannon Ensor's tips on how to increase the number of sign-ins you get from hosting Open Houses.
For more articles be sure to subscribe to our blog! Happy New Year!
---
Want more advice from fellow real estate agents? Click the button below!