Don't knock door knocking until you actually give knocking on doors a try. Having a good solid foundation is a great way to fortify your more advanced real estate knowledge.
Sure there are more efficient ways to engage an entire audience, such as using social media...but even this millennial real estate writer will agree that in-person conversations can do more to build meaningful relationships than responding to online comments.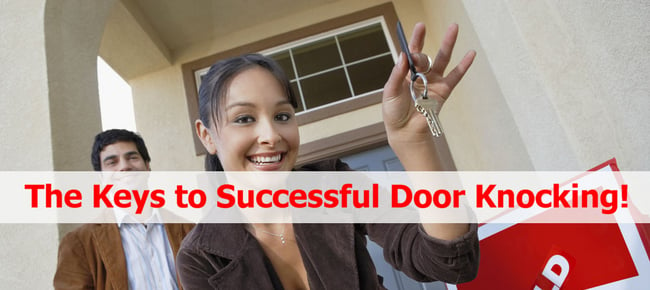 What Should Real Estate Agents Bring When Door Knocking?
Let us first preface this by saying the below items are not enough to convert a door knock into a real estate lead. Your main focus is to have a conversation. With your marketing materials, it is best to keep it simple and while you do the talking.
1. Your Business Cards
You should always have your business cards with you, you never know who you might meet. This also applies to people you might not meet. Leave your business card in the door of people who might not be home. You will always want a way for somebody to get ahold of you or get to your website after the interaction is over...but again, don't rely on them calling you or searching homes on your website because you already have a potential lead in front of you!
2. Listing Postcards
There should be a reason you are in the neighborhood. A sold home? An open house? A home for sale? Let the homeowner know about this by handing them a postcard. This is especially beneficial if you have extras. Tell these potential home buyers and home sellers about the Open House this weekend. Or let them know that the home on the corner is worth X amount, but the home next door to it is worth X amount less. Scan the average "Zestimate" of the homes and let them know why the number is likely inaccurate.
If you don't have listing flyers yet, here is a free template to design your own:
3. Your Flyer
You should only bring one flyer with you. It will make you appear as if your flyers are in high demand. You should not actually give this single flyer away, but instead use this as an excuse to ask for their contact info instead.
The benefit of using Zurple, is that you can have our intelligent software build relatationships with your leads based on their individual behavior while you are out door knocking or any other task related to your business!
---
Spring is Approaching! Let Zurple Help You Convert More Leads!