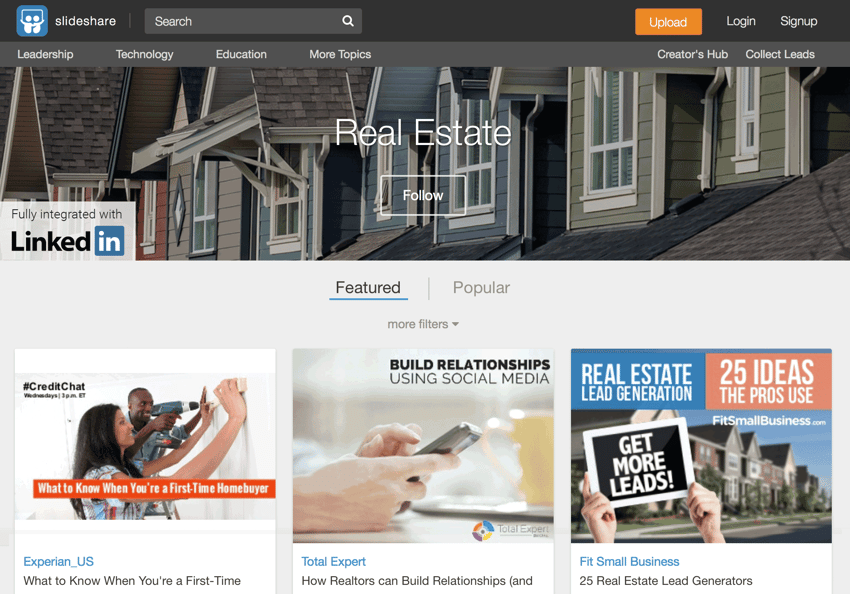 What is SlideShare?
SlideShare is a website that allows you to share presentations in a variety of formats, including PDFs, PowerPoint slides and videos. Once uploaded, presentations can be searched, viewed and shared by anyone. With 60 million monthly visitors and 130 million page views, SlideShare is one of the top 200 most visited websites and has earned the title of the most popular presentation sharing website in the world.
Benefits of using SlideShare for real estate marketing:
LinkedIn, the largest professional social platform, owns SlideShare - and the platforms work seamlessly together. If you want to show your expertise in your industry and become a thought leader, the LinkedIn / SlideShare combination is compelling, authoritative and hard to ignore.


You can sign up for SlideShare Pro at no cost. Beyond just uploading static presentation slides, you can also upload video – a service that provides you with a perfect opportunity for repurposing your agent intro and house tours.


You have the ability to manage who sees your content. You have the option to make your presentation invisible to people searching and can send a direct link to anyone you choose for exclusive access to your presentation.


Your content will be automatically optimized for mobile phones – making it visible to all users. Because of the platform's own web authority and its connection with LinkedIn, SlideShare content also ranks high in Google search results.
5 tips on how to use SlideShare to promote yourself as a real estate expert:

Take the time to design a template for your presentations, eBooks, case studies and real estate listings showcases that all match the overall design of your page to develop a consistent brand. Doing so will enhance brand credibility, make it easier for viewers to find you online and solidify your content as distinctly yours.
You want to make your content keyword rich so it's easy to find. Include key search engine optimization (SEO) phrases in your presentation's title, description and tags. Don't forget to make it hyperlocal by adding keywords that mention your market.

Upload a variety of content:

You're not just limited to presentations, so be creative! You can upload customer success stories, blog posts packaged as eBooks, infographics, videos and so on. Videos about unique features of your local area or tours of your latest listings are also great items to share.

Include a call to action:

Generate new leads with your SlideShare content by adding a relevant call to action - such as a link to your site or a landing page – to your last slide. The goal should always be to engage and convert SlideShare followers, and to capture their contact information so you can follow up with them personally.

Read and respond to comments.

SlideShare users can write comments about your content. Read and respond often to be social and earn your viewer's trust.
SlideShare is your ally in building your online reputation as a real estate expert. The innovative platform helps you shine on LinkedIn and increases your ability to be found online. Use it to your advantage and stand out from the crowd.
What has your experience been with SlideShare? Share in the comments below.
---
Want to get a boost for your marketing strategy?