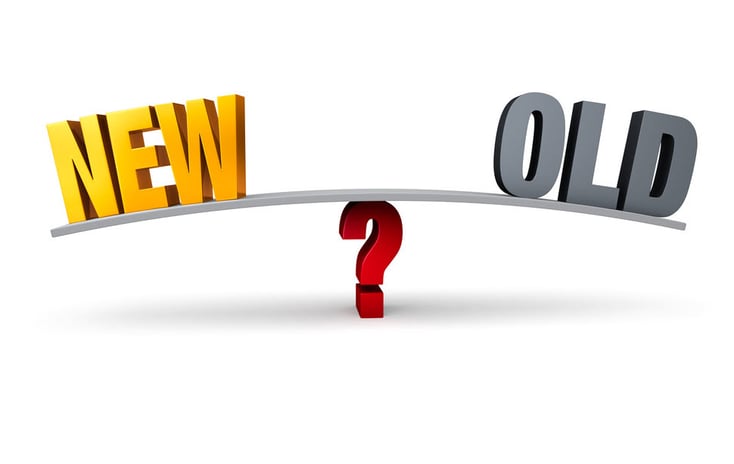 Technology has helped professionals in all industries become more efficient at their jobs, even real estate. However, that's not to say that everything has been changed by technology. Some practices have stayed the same.

Here are 5 ways real estate marketing has changed:
Brokers and Agents
Old - Believe it or not, but Brokerages and Real Estate agents weren't common once before- selling/buying was "simple." A buyer and seller simply made an agreement and finalized the deal. There was no need for a third party to get involved.

New - Buying or selling is a complex process. Agents typically are the ones to go out and find clients, arrange the deal, and then get the paperwork finalized.
Where Buyers Found Listings
Old - Listings could only be found in the real estate section of the newspaper. The potential buyer then reaches out to the agent or seller.

New - Today, buyers most commonly look online to find listings. Trulia, Zillow and personal websites display listings pictures and sometimes a virtual tour. Forms on these websites allow agents to capture lead information.
Marketing Techniques
Old - An agent's primary tactic was cold calling to find clients, and door to door visits were a common practice as well. There was an open house every weekend for each listing, and agents could send postcards about their showings.

New - Thanks to online avenues, the majority of marketing can and is done online through either social media, digital ads, and printed materials can range from postcards to brochures. With online technology agents can get cheap and fast turnaround times on their postcards- plus, some companies send directly to a farming area.
Offers
Old - Offers were handwritten.

New - Almost all transaction activities can be conducted online now. Even signing an offer can be done online thanks to new technologies like DocuSign.
Communication
Old - Agents would pick up a phone and call their clients.

New - The majority of communication is done via texting (especially for millennials), email and even social media. Of course there are still some instances where a phone call is necessary or even preferred over online communication.
Technology sure has come a long way and it will continue to improve in the years to come. Don't consider these improvements to be a battle between old school and new school real estate practices because the reality is that they are working together to provide the most effective practice possible.
---
Are you struggling to find buyer or seller leads? See how Zurple can help you.