In many industries traditional marketing is DEAD. However, that's not necessarily the case in real estate. Many agents continue to see return from traditional marketing pieces print listing flyers, print ads, and open house signs. However, tech-savvy agents know how to take it a step further and maximize ROI on traditional marketing tactics by repurposing it for online content. Check out some of the ways agents can refurbish their traditional marketing materials for online content -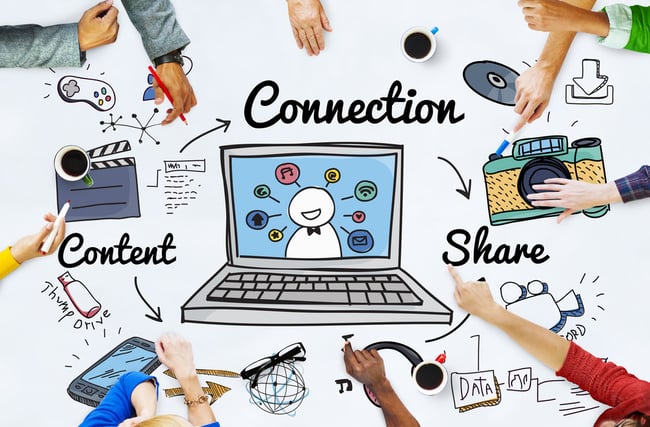 3 Ways Realtors® Can Bring Offline Content Online
Turn Educational Pieces into Infographics –

Some agents use brochures or guidebooks to help educate buyers and sellers. A good portion of the work behind composing these educational pieces is the research, not the design. Agents can upload the written content of these pieces onto infographics and share on social media. If you've never created an infographic before, start with Zurple's template.

Download Zurple's infographic template to get started on your next infographic!


Turn Print Listings Flyers into Emails

Every agent knows even a hot listing needs adequate promotion. You can easily turn print listing flyers into emails by integrating your email automation platform with your MLS. Agents that do this will save time not having to reload property details into their email message. When choosing an email automation platform, be sure to choose one that is integrated with their MLS.

From Zurple's back office agents can send out listing with Email Listing Flyers. They simply enter your listings MLS ID number into the search bar and the listing with photos and property description. Best of all Zurple agents can edit the Listing Flyer's supporting text so they can personalize their marketing. To learn more about Email Listing Flyers and other Zurple product features, request a demo be sent to you in the link below -


Create Online Content from Offline Events

If your event involves any sort of formal speaking, record it! You can then upload the video to your real estate website. There are plenty of free video conversion sites that allow you to upload vidoes and turn it into embedded code for your website, the Zurple team uses Wistia. If you are hosting an informal event, such as a pumpkin carving contest, mortgage seminar, or open house, host it on Facebook Live, Snapchat, or Instagram.

ProTip - Facebook and Instagram are heavily pushing video content right now to compete with Snapchat. If you take a live video form a personal account (not a Facebook business account), your followers will receive a notification that you went live.
---
Want more great advice on online marketing, subscribe to Zurple's Real Estate Success blog in the link below -