Here at Zurple we are constantly adding new features to our Back Office. With our latest addition, the Message Log, you'll be able to better manage your buyer and seller leads. The Message Log functions as an inbox for your entire sales pipeline. Instead of following up with leads from both your Back Office and Outlook, you can now do everything directly from one place: the Message Log. Below we will explain how the Message Log works and how it will benefit your sales pipeline.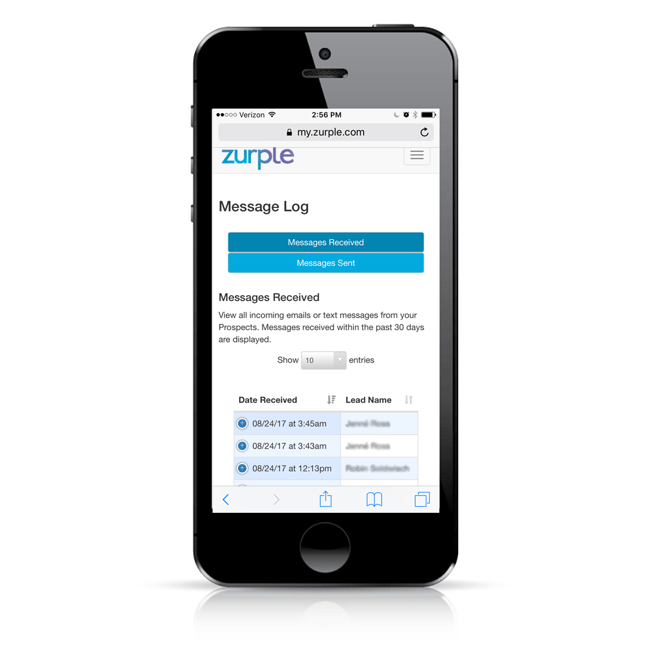 The Message Log – How it Works
The Message Log functions as an inbox history for your pipeline. With the Message Log, you can now view all incoming and outgoing messages in one spot. From the Message Log, you can see 1) Date received or Date Sent 2) Lead Name 3) Lead Email 3) Type (either text or email) and 4) Subject Line. In addition, you can drag and drop each of these columns listed to see message details in your preferred order. It's also worth noting that we've added this feature at no cost additional cost to our current clients.
Save Time – With the Message Log you no longer need to open individual lead files to view messages. The Message Log provides a broad overview of the types of messages being sent to your pipeline. From the Message Log, you can view Automated Agent emails, mass emails sent within the back office, lead replies, and your individual replies, without navigating elsewhere.

Stay in the Loop – Know which messages Conversations™ is sending on your behalf and how leads are replying. Although Zurple follows up on the agent's behalf, sometimes our agents like to follow up with hotter leads on their own, and that's where the Message Log comes in. Say you log into your Back Office and notice in your Priority List a significant amount of leads have been labeled as "Target", head to your Message Log. Before you send a personalized message to a lead, be sure to see what Conversations has already said. With the Message Log, you can now quickly reference each message sent.

In case you didn't know, Conversations is Zurple's lead nurturing software. Conversations sends intelligent, customized email and text messages on your behalf. These data-enriched messages reference lead's online search history, including previous properties viewed. Conversations can respond to 25 separate behaviors - a feature unique to Zurple. Many other automation platforms rely on inhertly ineffective drip campaigns. In fact, we offer the real estate industry's only automation platform that appears as if you were sending the emails yourself.
---
Want to try the Real Estate industry's most robust email automation software? Schedule a demo with one of our Account Executives in the link below: