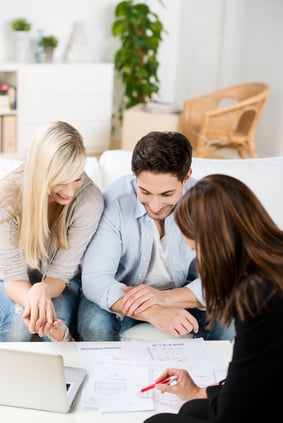 Last year, we brought you 9 real estate marketing ideas for 2014. This year, we're taking it up a notch with 11 real estate marketing ideas for 2015!
As you know - a lot can change in a year, especially in the real estate space. So today, we're going to talk about what you can do to generate more leads, build an effective lead nurturing system and ultimately, close more deals in 2015 and beyond.

In our 2014 article, we talked about technology and the role it plays in your business. The main questions were 1). Do technology solutions provide an effective way to elevate your business and 2). Are they replacing face-to-face conversations? The conclusion was (and will continue to be) yes, technology can help elevate your business but no, it will never be a replacement for face-to-face interactions. Real estate is, and always will be, a relationship business.
Of course, that statement only leads to more questions - like how do you skirt the fine line between automation and effective relationship building? Are there opportunities to automate business tasks so that you're able to spend more time out in the field focusing on building relationships? If so, how does it work? What types of tools can you incorporate into your business without losing the personal, relevant feel that can only come from human insight?
There is a balance, and we can help you find it. Check out these tips on how to create an effective online / offline marketing program that will help you excel in 2015.


Generating Seller Leads
Idea #1: Share Helpful Content
There are lots of ways you can better engage with seller leads - but the easiest one is to offer them valuable content that they'll find useful and helpful. Luckily for you, Zurple just released the 'Ultimate Guide to Stress-Free Home Sales: 2015 Edition' - a customizable presentation that you can use to attract seller leads to your site. Simply add your information to the 'About Me' page, save the deck as a PDF, put it behind a lead gate on your website and promote it via email and through your social networks to capture more seller leads.
Click here to get your free copy.
Idea #2: Go to Lunch More Often
In one of our most popular Agent Insights posts, "How I Made 100,000 by Wasting an Afternoon" - Karen Fiddler shares her secret to referrals that happens to be lunch meetings. With one lunch meeting, Karen made connections with three new clients and her hour-long commitment produced $100,000 in commissions.
See how she did it.


Idea #3: Cater to Your Community
You're an expert in your target real estate communities - so share your knowledge!
Write blog posts
about the top attractions, share your favorite restaurants, talk about schools, safety and general community stats. When sellers start investigating different areas, they are going to be looking for all of that information. If you present it in a helpful way, promote it on social channels and
use keyword optimization
to drive targeted traffic, you'll drive more seller leads to your real estate site or blog.
Idea #4: Get Creative with Your Lead Gen Approach
Seller leads are highly coveted - and can be difficult to generate - but sometimes it just takes a little thinking outside the box to enhance your lead generation efforts. Improve your strategy by incorporating these 4 tried-and-true seller lead generation techniques:
check them out
.
Idea #5: Build a Killer Listing Presentation

Idea #6: Incorporate an Effective Referral Program:
Generating Buyer Leads
Idea #7: Cater to Your Lead's Wants
Study after study shows that speed is critically important to your leads. Don't disappoint them!
Understand how their minds work
and cater your marketing strategy to meet their needs. Also - if you haven't gotten aboard the texting train yet - it's already pulled 3/4 of the way out of the station.
It's time.
Idea #8: Take Advantage of Free Tools
Idea #9: Don't Underestimate the Power of Reviews
Reviews are becoming a more and more critical factor in the consumer decision-making process - and real estate agent reviews are no exception. Make sure you consistently capture testimonials from satisfied clients and add them to Active Rain, Trulia, Zillow, Realtor.com and your website.
Use our free testimonial template
to simplify the collection process.
Idea #10: Use Craigslist Features to Your Advantage
Consistently analyzing your marketing spend and return on investments is absolutely critical to the health of your business (and your wallet!). Marketing is not rocket science, but there is a science behind finding the 'right' combination of words, colors, images and formatting for optimum conversions - and analytics will help you identify what those things are. The bottom line is you have to be patient and critical in order to truly excel with your marketing.
Use our free marketing metrics worksheet
to simplify the process.
---
Bonus Idea #12: Use Facebook's Graph Search to Find Seller Leads